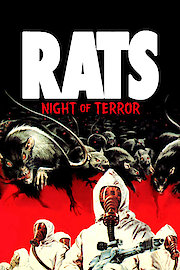 Watch Rats: Night Of Terror
"Mutants of a nuclear disaster"
NR
1984
1 hr 37 min
In the post-apocalyptic world of Rats: Night of Terror, humanity has been decimated by nuclear war, leaving only a handful of survivors to face an even bigger threat: a swarm of mutated rats. Desperate for shelter and resources, a group of survivors led by Kurt (Ottaviano Dell'Acqua) and Chocolate (Geretta Geretta) stumble upon an abandoned research facility. The facility seems like the perfect place to hole up until they can figure out their next move, but they soon realize that they are not alone. The rats have taken over the facility and are not inclined to share. The survivors are not prepared for what they are about to face. The rats are not only mutated but also seem to be incredibly intelligent, capable of working together to trap and kill their prey. The group begins to suffer tragic losses as the rats become more and more aggressive, and it quickly becomes clear that the survivors are outnumbered and outmatched. As the night wears on and the survivors desperately try to stay alive, they begin to uncover the unsettling secrets of the research facility. They soon realize that the scientists had been experimenting on the rats, trying to find a way to control their aggression. The survivors find themselves caught up in the aftermath of these experiments, facing the horrifying consequences of unchecked scientific curiosity. The tension in Rats: Night of Terror is palpable, with the claustrophobic setting and ever-present threat of the rats keeping viewers on the edge of their seats. The cinematography is gritty and realistic, capturing the grim reality of a world devastated by war and chaos. The actors all give convincing performances, portraying characters who are struggling to survive against impossible odds. Particularly noteworthy is Geretta Geretta, who brings a fierce intensity to the role of Chocolate, a survivor who refuses to be a victim. Despite its low budget and B-movie trappings, Rats: Night of Terror manages to be surprisingly effective, delivering a tense and engaging horror experience. Director Bruno Mattei manages to create a world that is both bleak and terrifying, with the rats serving as a potent symbol of the dangers of unchecked scientific experimentation. For fans of post-apocalyptic horror or creature features, Rats: Night of Terror is a must-see. It may not be a masterpiece, but it is a solid entry in the genre that delivers plenty of scares and thrills. Just be sure to keep a can of bug spray handy – after watching this movie, you may never look at rats the same way again.