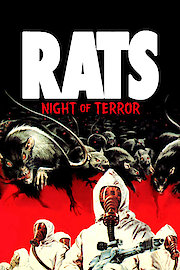 Watch Rats: Night Of Terror
"Mutants of a nuclear disaster"
NR
1984
1 hr 37 min
Rats: Night of Terror explores what the world might be like after a nuclear holocaust in 2015. Survivors are divided into two types. One group lives in the open and are considered to be primitives. The other group lives underground in cities. When a group of primitives accidentally come across a village, they ignore the presence of mutilated corpses and decide to spend the night there. With plenty of food, water and fruit trees to sustain life, the town appeared to be a blessing. That decision throws them into a night of terror where they have to fight for their lives.