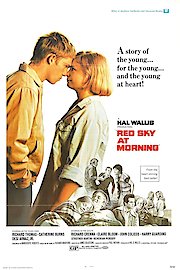 Watch Red Sky at Morning
"A story of the young...for the young...and the young at heart!"
GP
1971
1 hr 52 min
Red Sky at Morning is a poignant coming-of-age drama that explores the complex themes of family, loss, and self-discovery against the backdrop of a tumultuous historical period. Directed by James Goldstone, the film is based on the novel of the same name by Richard Bradford and features a talented ensemble cast including Richard Thomas, Catherine Burns, Desi Arnaz Jr., and Richard Crenna. The plot revolves around the character of Josh Arnold (Richard Thomas), a sensitive and bookish teenager who is forced to leave his comfortable life in Mobile, Alabama, and move with his mother, Ann (Catherine Burns), and his stepfather, Frank (Richard Crenna), to a remote New Mexico town during World War II. As the family adjusts to their new surroundings, Josh struggles to make sense of his identity and his place in the world. He finds solace in his love for literature, his burgeoning romance with the local girl Marjorie (a young Susan Tyrrell), and his friendship with the eccentric farmhand, St. Cloud (Desi Arnaz Jr.). However, life in the small town is not without its challenges, as the Arnolds face racism, prejudice, and the harshness of the desert landscape. One of the strengths of Red Sky at Morning is its nuanced and multi-dimensional portrayal of the characters, who are all flawed and imperfect in their own ways. Josh, for example, is not the typical hero of a coming-of-age story, as he is often moody, introspective, and aloof. However, his introspection and sensitivity make him a relatable and sympathetic figure, as he navigates the turmoil of adolescence and the confusion of being torn between his past life and his present circumstances. Similarly, Ann is not a simple stereotype of a wicked stepmother, but a complex and conflicted woman who struggles to balance her own desires with her obligations to her family. Frank, too, is not a one-dimensional villain, but a flawed and troubled man who is haunted by his own past and his war experiences. The film also benefits from its evocative and stunning cinematography, which captures the beauty and harshness of the New Mexico landscapes. From the golden skies of dawn to the eerie moonlit nights, the film creates a palpable sense of place and atmosphere that enhances the emotional impact of the story. The soundtrack, composed by Billy Goldenberg, is also notable for its haunting and melancholic melodies that capture the bittersweet tone of the film. One of the most powerful themes of Red Sky at Morning is the idea of loss and grief, which permeates the story at every level. The characters all grapple with different forms of loss – Josh loses his innocence and his sense of home, Ann loses her autonomy and her sense of self, and Frank loses his sanity and his sense of purpose. The film does not shy away from the pain and sadness of these losses, but it also offers a message of hope and resilience. Through their struggles, the characters learn to adapt, to grow, and to find new meanings in their lives, even as they cherish what they have lost. In conclusion, Red Sky at Morning is a masterful film that deserves more recognition and appreciation than it has received. Although it was not a box office success and has been largely forgotten by mainstream audiences, it remains a powerful and resonant work of art that speaks to the human condition with honesty, sensitivity, and insight. Whether you are a fan of coming-of-age stories, historical dramas, or character-driven films, Red Sky at Morning is a must-see that will leave you moved and enriched.