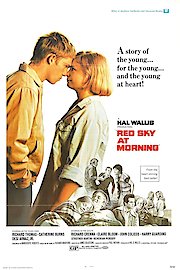 Watch Red Sky at Morning
"A story of the young...for the young...and the young at heart!"
GP
1971
1 hr 52 min
This dramatic film follows the adventure of a family thrust into unfamiliar surroundings. A soldier relocates his family prior to heading off to World War II, and the relocation and life without a husband and father takes a serious toll on his wife and son. Both handle the stress in different ways, and struggle to find a foothold. However, just when the pair is getting acclimated to their new surroundings, the world is turned upside down again.