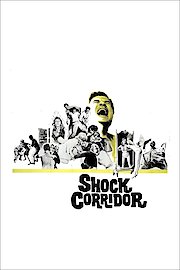 Watch Shock Corridor
"… opens the door to sights you've never seen before!"
NR
1963
1 hr 41 min
Shock Corridor is a 1963 drama about an investigative journalist at a mental hospital. Journalist Johnny Barret has himself committed to a mental hospital to investigate a murder at the hospital. He persuades an expert psychiatrist to give him tips that will help him convince the hospital that he is insane. He convinces the authorities and is locked up at the hospital where the murder occurred. He soon becomes involved with three witnesses who saw the murder take place. Each of the three suffers from severe mental disturbances brought on by traumatic events in their past.