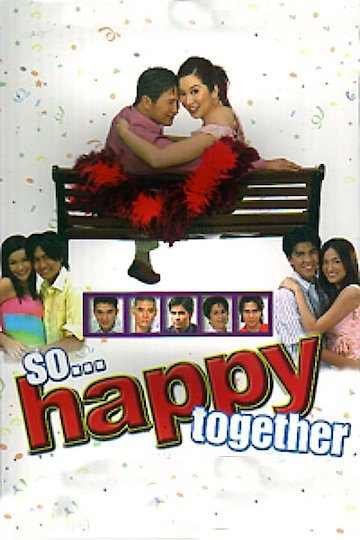 Watch So Happy Together
"Life is nothing without a friend."
2004
1 hr 16 min
So Happy Together is a Filipino romantic-comedy film released in 2004 directed by Joel Lamangan. The movie stars Kris Aquino, Eric Quizon, and Tonton Gutierrez in the lead roles. The storyline revolves around the complicated love triangle between three main characters: Bianca (Kris Aquino), Gabby (Eric Quizon), and Nick (Tonton Gutierrez). Bianca is a rich and successful businesswoman who is unlucky in love. Gabby is her trusted assistant who has secretly been in love with her for years. Meanwhile, Nick is a talented and charming photographer who catches Bianca's eye. The movie starts with Bianca attending a wedding where she meets Nick, who is the photographer for the event. There is an instant spark between them, and they hit it off. However, their romance is complicated by several factors: Bianca is still not over her ex-boyfriend, who left her heartbroken, and Gabby is still nursing his unrequited love for her. As the story progresses, Bianca and Nick's relationship blossoms, and they officially become a couple. But their happiness is short-lived when Gabby confesses his feelings for Bianca, and she is torn between the two men in her life. One of the movie's strengths is the excellent chemistry between the lead actors, especially Kris Aquino and Eric Quizon. They both give genuine and nuanced performances that make their characters' emotions palpable to the audience. Kris Aquino, in particular, shines as Bianca, showcasing her range as an actress by balancing vulnerability, strength, and humor. The movie also benefits from a well-written script that balances humor and drama effectively. There are lots of hilarious moments, especially involving Gabby's hilarious attempts to win Bianca's heart, which adds a lighthearted touch to the story. One of the film's standout scenes is when Bianca and Gabby go on a road trip, which leads to them confronting the complicated history of their relationship. It's a masterful scene that showcases the two actors' impressive range and chemistry, making it one of the most memorable moments of the movie. In addition, the film's cinematography is top-notch, with beautiful shots of the Philippines' scenic locations, vibrant colors, and excellent use of lighting. The movie's soundtrack is also notable, featuring a mix of classic and contemporary Filipino pop songs that suit the film's tone and themes. Overall, So Happy Together is a romantic comedy, infused with a lot of heart and soul. It is an entertaining and well-made movie that offers something for everyone. It is a must-watch for fans of Filipino rom-coms and a good starting point for those unfamiliar with the genre.