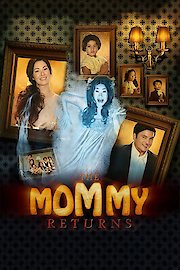 Watch The Mommy Returns
"Till death we'll not part."
2012
1 hr 40 min
The Mommy Returns is a heartwarming family-comedy film released in 2012, directed by Joel Lamangan and features Gabby Concepcion, Ruffa Gutierrez, and Pokwang in the lead roles. The story follows the life of Ruby (Ruffa Gutierrez) and her two kids, seven-year-old named Pepe (Gerald Pesigan) and five-year-old named Susie (Jillian Ward). Ruby is a successful career woman juggling her life between her demanding job as an editor and her familial responsibilities. Everything seems to be going well in Ruby's life until she succumbs to an accident that claims her life. Her death leaves her kids bewildered and her husband Edward (Gabby Concepcion), distraught. Even before her death, Edward is not able to spend much time with his family as he is preoccupied with his work as a CEO of a large corporation. After losing his wife and realizing his shortcomings, Edward decides to take a sabbatical from work and be with his kids. However, considering that he has been away from his kids for a long time, he finds it hard to keep up with their needs. As Edward struggles to adapt to his new role as a stay-at-home dad, he struggles to keep up with the demands of his children. Pepe misses his mother, and Susie desperately wants her mommy's attention. With nowhere to turn, Edward turns to Lorna, his sister-in-law (Pokwang), a street-smart lady who has an unbreakable bond with the family. Lorna is initially reluctant to take care of the children. But, when she realizes the children need her, she takes on the challenge, and slowly but surely, she wins over the hearts of the kids. Lorna works diligently to ensure that the children are provided for, both physically and emotionally. She helps Pepe with his schoolwork, and she indulges Susie's whims and fancies by reading her stories and keeping her entertained. On top of that, she maintains close contact with Edward, always keeping him informed about the activities of the children. In no time, Lorna's presence brings a sense of normalcy back into the household, and the children get past their mother's demise. However, things take a different turn when Ruby suddenly returns from the dead to reclaim her place in the family. She has a personal mission to accomplish - to ensure Edward's family is reunited so she leaves the mortal world peacefully. Edward, who is initially ecstatic to see his wife alive again, soon realizes that she is no longer the same person. She seems to have lost her memory of everything that has transpired in her life and has developed an intense dislike for him. To make things worse, she does not seem to recognize her kids either. As Ruby tries to fit back into her family's life, the situation becomes extremely complicated. Edward is caught between his love for his wife and his newfound feelings for Lorna, and the children are left feeling confused and lost. Amidst all these, Lorna finds ways to cope with her newfound feelings for Edward, and she puts the welfare of the family first, hoping to do what is best for everyone. The Mommy Returns is more than just a simple family comedy. It carries a message on the importance of family, love, and understanding. The film is full of emotional highs and lows, with a good dose of humor thrown in for good measure. The actors deliver fantastic performances, particularly Pokwang, who plays Lorna - her character brings a sense of depth and compassion to the film, making it more than just another superficial comedy. Overall, this movie is a must-watch for families looking for a good laugh and heartwarming moments.