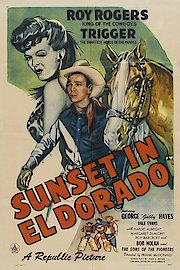 Watch Sunset in El Dorado
"Champion Of Western Hearts... In A New Raceway To Adventuromance!"
Approved
1945
1 hr 5 min
Set in the Wild West, the 1945 movie Sunset in El Dorado is about Sheriff Roy Rogers (played by Roy Rogers) and his friend Gabby Whittaker (played by George 'Gabby' Hayes) who set out to capture a gang of ruthless thieves who are stealing gold mines in the El Dorado territory. Gabby is worried that the thieves may get their hands on a mine that he owns and he enlists Roy's help to stop them. The movie starts with Roy and Gabby getting a tip from a local miner about the whereabouts of the gang's hideout. They set off to follow the lead and catch the thieves. Along the way, they meet a young woman named Ellen (played by Dale Evans) who is also seeking out the same gang of thieves. Ellen is the daughter of a miner who has been robbed by the gang, and she is determined to seek revenge. The three of them join forces and set out to stop the thieves once and for all. The movie has all the classic Western elements like gunfights, horse chases, and campfire scenes. Roy Rogers, who was a famous singing cowboy, also has some musical numbers in the movie. One particular standout is a duet with Dale Evans, where they sing a song called "Ride Ranger Ride." The song has become one of the most popular Western songs of all time and is still regularly played on Western radio stations. The chemistry between Roy and Dale is undeniable, and they were a popular on-screen pair for many years. This movie marked the beginning of their romantic pairing, and their chemistry only got stronger in later movies. George 'Gabby' Hayes, who was a famous sidekick in many Western movies, adds much-needed comic relief to the film. His bumbling and humorous ways are a nice contrast to the serious tone of the movie. One of the standout features of the movie is Trigger, Roy Rogers' famous palomino horse. Trigger had his own dedicated fan base and was often referred to as "The World's Smartest Horse." He is a key player in the movie and has some impressive stunts and tricks throughout. Seeing Trigger in action was a big draw for audiences and helped secure Roy Rogers' popularity. Overall, Sunset in El Dorado is a classic Western movie that is perfect for fans of the genre. It has all the classic elements like good versus evil, shootouts, and horses galloping through the rugged terrain. The acting is solid, and the chemistry between Roy Rogers and Dale Evans is undeniable. The musical numbers are catchy, and the stunts are impressive. It's a fun and entertaining movie that showcases why Roy Rogers was one of the most popular cowboys of his time.