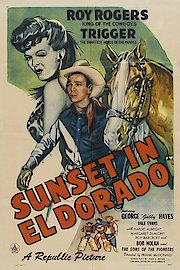 Watch Sunset in El Dorado
"Champion Of Western Hearts... In A New Raceway To Adventuromance!"
Approved
1945
1 hr 5 min
This is a classic western musical/drama with Roy Rogers and Dale Evans. While trying to escape her boring job, Evans as Lucille Wiley ends up in El Dorado after her car breaks down. She just happens to run into Roy Rogers who helps her get to a former casino where Lucille's grandmother was the famous singer, Kansas Kate. While sleeping in her grandmother's old bed, Lucille begins to dream of those days in the wild west, with Evans also portraying the Kansas Kate role. A gold rush introduces the bad guys into the flashback, but Roy Rogers is amazingly also there to save the day. Evans and Rogers are charming in their dual roles in this movie.