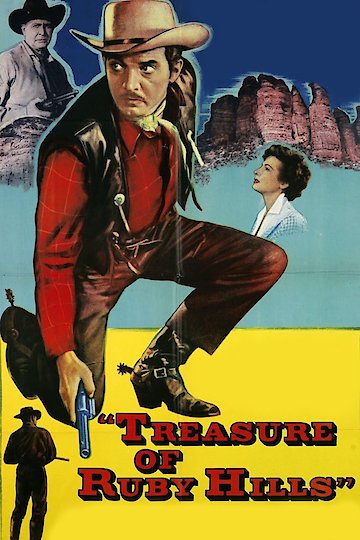 Watch Treasure of Ruby Hills
"THE GUNSKONED HILLS BECKONED TO MAN AND WOMAN...and took its shameful toll of both!"
Approved
1955
1 hr 11 min
Treasure of Ruby Hills is a 1955 film directed by Frank McDonald and produced by Republic Pictures. The movie features a star-studded cast including Zachary Scott, Carole Mathews, and Barton MacLane. It is a thrilling western that follows the lives of two cowboys who embark on a dangerous mission to find a hidden fortune in the Ruby Hills. The movie begins with a young man named Ross Haney, played by Scott, who enters the town of Ruby Hills looking for a job. He soon finds himself at the center of a conflict between two ranchers, Frank Emmett and Luther "Swift Knife" Sharp, who are fighting over the water rights of the Ruby Hills. The situation becomes more complicated when Ross falls in love with Emmett's daughter, Milly, played by Mathews. Ross is soon introduced to a mysterious stranger named Jim Dancer, played by MacLane, who offers him a job to transport a package to a nearby town. Ross accepts the job, but soon realizes that the package he is carrying contains a large sum of money. Dancer reveals that the money is part of a hidden fortune located in the Ruby Hills, and offers Ross a share of the treasure if he helps him find it. As they journey deeper into the desert, Ross and Dancer face several obstacles, including run-ins with Sharp's men, a violent sandstorm, and dehydration. They eventually stumble upon an abandoned mine, where they discover the location of the hidden fortune. However, they are not alone in their search, and soon find themselves facing dangerous enemies who will stop at nothing to claim the treasure for themselves. Throughout the movie, the relationship between Ross and Milly grows stronger, but is threatened by the conflict between their fathers. Milly has a strong will and fiercely defends her family's honor, while Ross is torn between his loyalty to Dancer and his love for Milly. As the tension between the two ranchers reaches a boiling point, Ross must choose between his loyalty to his new friend and his love for Milly. Treasure of Ruby Hills is an entertaining western that keeps viewers on the edge of their seats. The acting performances by the cast are stellar, with Scott delivering a convincing portrayal of a young cowboy trying to make a name for himself. Mathews brings a strong presence to her role as Milly, delivering a powerful performance as a woman who isn't afraid to stand up for her family. MacLane is outstanding as the mysterious and dangerous Dancer, bringing a sense of darkness to the film. The movie is beautifully shot in stunning landscapes of the American Southwest, capturing the beauty of the desert and the ruggedness of the Old West. The action scenes are well choreographed, with thrilling gunfights, horse chases and fistfights that keep the audience engaged. Overall, Treasure of Ruby Hills is a must-see movie for fans of westerns, adventure, and action. It's a classic tale of treasure hunting in the Old West, and is a film that will leave viewers entertained and satisfied.