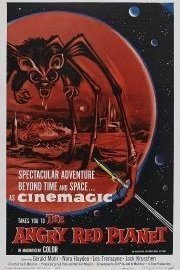 Watch The Angry Red Planet
"Spectacular Adventure Beyond Time and Space"
NR
1959
1 hr 23 min
The Angry Red Planet is a 1959 cult classic science fiction film directed by Ib Melchior. Set in the distant future, the film follows the first manned mission to Mars, led by Commander William 'Mac' McLaughlin (Gerald Mohr). Accompanied by Dr. Iris 'Irish' Ryan (Nora Hayden), Colonel Tom O'Bannion (Les Tremayne), and the robot AMEE (voiced by Lock Martin), the crew sets out to explore the Red Planet and uncover its mysteries. As they land on the Martian surface, they are immediately met with a series of strange and deadly phenomena, including a sudden sandstorm, fiery geysers, and poisonous plants. The crew soon discovers that the planet is home to a race of sentient, telepathic aliens known as the 'Screamers', who are not happy about the humans' presence. The film is notable for its unique visual style, which employs a combination of live-action footage and hand-drawn animation to create a surreal, otherworldly atmosphere. The Martian landscape is rendered in bold, saturated colors, and the Screamers are depicted as bizarre, insectoid creatures with glowing, pulsating eyes. The special effects, while dated by modern standards, are impressive for the time and include a variety of practical and optical illusions. There are some truly memorable sequences, such as the crew's encounter with a giant, tentacled amoeba that engulfs their ship or the intense battle between AMEE and a horde of attacking Screamers. Despite its B-movie roots, The Angry Red Planet manages to create a genuinely eerie and unsettling mood, thanks in part to its moody electronic score and the intriguingly vague nature of the Martian threat. Are the Screamers malicious, or simply misunderstood? The film leaves it up to the viewer to decide. The cast is solid, if a bit wooden at times. Mohr is suitably heroic as Mac, while Hayden brings a touch of vulnerability to her role as the telepathically-sensitive Irish. Tremayne, as the gruff Colonel, provides some much-needed comic relief, and Martin's AMEE is a delightfully clunky robot companion. Ultimately, The Angry Red Planet is a fun, quirky example of 1950s science fiction cinema. While it may not have the polished special effects or nuanced performances of more modern films, it more than makes up for it with its sheer enthusiasm and imaginative vision. If you're looking for a nostalgic thrill ride to the outer edges of the galaxy, you can't go wrong with this classic gem.