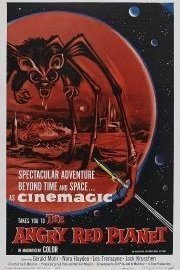 Watch The Angry Red Planet
"Spectacular Adventure Beyond Time and Space"
NR
1959
1 hr 23 min
The return of the first manned flight to Mars sees only two survivors arrive back on Earth, one of whom has his arm covered with a strange alien growth. The two survivors reveal the story of their mission to Mars, explaining encounters with giant hybrid creatures and an unseen force that blocks their signals and grounds their spacecraft. Assisted by their security officer, the survivors of the Mars mission reveal how they escaped and learn more about the alien culture they left behind.