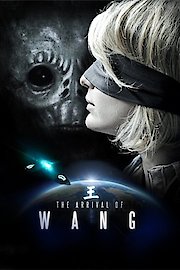 Watch The Arrival of Wang
"We know everything... except the truth."
TV-14
2011
1 hr 22 min
The Arrival of Wang is a science fiction movie that was released in 2011. The movie is directed by Marco and Antonio Manetti and stars Ennio Fantastichini, Francesca Cuttica, and Juliet Esey Joseph in lead roles. The film appears to be a departure from typical Hollywood sci-fi films as the filmmakers take a more innovative and thoughtful approach to the genre. The movie follows the character of Alberto (Fantastichini), an Italian scientist who is on the verge of discovering something groundbreaking in the field of quantum mechanics. He has secluded himself in a remote laboratory in the middle of the desert to work on his project. One day, a young Chinese woman named Jing (Cuttica) arrives at the laboratory to deliver a message from her boss, Wang, who claims to have important information regarding Alberto's experiment. However, what initially seems like an ordinary visit soon turns into a bizarre and surreal encounter. The story takes a weird and mysterious turn when Jing takes Alberto to a remote location and asks him to participate in an experiment. However, this experiment leads to some bizarre and inexplicable consequences. Suddenly, they find themselves stranded in a strange and desolate landscape, with no hope of rescue. Alberto begins to suspect that the whole thing is a setup and that Jing is not who she seems to be. As the story progresses, we discover that Jing is not a human but an alien from another planet. She has come to Earth to collect data and observations about human life and behavior as part of a larger study being conducted by her planet. Along with her, she has brought a device that can monitor the thoughts and emotions of human beings. Through Jing's eyes, the audience sees a unique take on humanity, and we get to observe our behavior from an outsider's perspective. This approach not only turns the trope of the humanoid alien on its head, but it also presents a unique perspective on the themes of immigration, culture shock, and cross-species communication. What emerges is a surprisingly thoughtful and at times heartwarming exploration into what it means to be human. As Alberto and Jing's journey continues, they begin to form an unlikely bond and discover that they share more in common than they thought. Alberto, despite his initial skepticism, starts to empathize with the alien in a way that is touching and authentic. The performances of the actors were top-notch, particularly the leads. Ennio Fantastichini is fantastic as the homebound scientist who must confront extraordinary circumstances. Francesca Cuttica as Jing also gives a solid performance, despite being weighed down a little by the dialogue in some scenes. Juliet Esey Joseph's supporting role as Annabelle provides some of the necessary levity and humor in the film. Overall, The Arrival of Wang is an original and inventive sci-fi movie that effectively challenges the genre's conventions. While it may not be for everyone, those who enjoy thoughtful, character-driven science fiction films will have much to appreciate. Despite having a relatively small budget, the filmmakers managed to construct a unique and imaginative world filled with fascinating concepts that are well worth exploring.