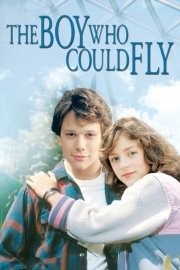 Watch The Boy Who Could Fly
"A very special love. And a very special magic. But is it real magic or just an illusion?"
PG
1986
1 hr 54 min
67
The Boy Who Could Fly is a heartwarming family drama from 1986 that tells the story of a young boy named Eric Gibb (Jay Underwood) who believes he can fly. The movie begins with Eric and his family moving into a new house, where they meet their new next-door neighbor, an introverted girl named Milly (Lucy Deakins) who is struggling to cope with the recent death of her father. As Eric and Milly get to know each other, Eric's unusual ability to fly becomes the centerpiece of the movie. Milly is initially skeptical, but she soon becomes intrigued by Eric's talent and starts to spend more time with him. Together, they go on various adventures, with Eric showing off his flying skills and Milly learning to let go of her grief. Despite the whimsical premise, The Boy Who Could Fly tackles some heavy themes, including death, loss, and isolation. Milly, in particular, is struggling to come to terms with her father's death and feels disconnected from the world around her. Eric, meanwhile, is dealing with some difficult family dynamics, as his parents are going through a separation and his older brother is struggling with his own emotional issues. One of the highlights of the movie is the performances by the two lead actors. Jay Underwood does a great job of portraying Eric as both quirky and endearing, while Lucy Deakins brings a lot of depth to the role of Milly. The chemistry between the two actors is also excellent, and their relationship feels very genuine and natural. Another standout element of The Boy Who Could Fly is the impressive visual effects used to create Eric's flying sequences. While some of the shots are clearly done with a harness or other practical effects, there are also several scenes where Eric is soaring through the sky that look surprisingly convincing for a movie from the 80s. The movie's soundtrack is also worth mentioning, as it features several original songs by Bruce Broughton that perfectly capture the film's emotional tone. In particular, the main theme of the movie, "The Boy Who Could Fly", is a beautiful and haunting melody that will stay with you long after the film is over. Overall, The Boy Who Could Fly is a charming and heartwarming movie that is both entertaining and emotionally resonant. While it may be a bit cheesy at times, it's hard not to get swept up in the magic of Eric's flights and the friendship between him and Milly. Fans of family dramas and coming-of-age stories will definitely want to check this one out.