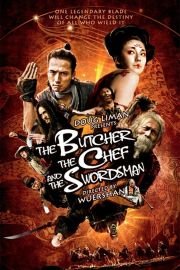 Watch The Butcher, the Chef and the Swordsman
"One legendary blade will change the destiny of all who wield it."
The Butcher, the Chef and the Swordsman is a 2010 Chinese action-comedy film directed by Wuershan. The film stars Kitty Zhang, Masanobu Ando, You Benchang, Liu Xiaoye, and Ashton Xu. The film revolves around the story of a mystical butcher's cleaver, which is said to bring good luck and great power to whoever possesses it. The story is split into three different segments, each focusing on a different character's quest to obtain the cleaver and the power it holds. The first segment tells the story of a butcher (played by You Benchang) who aspires to become the best butcher in town. He is eventually given the mystical cleaver by a mysterious woman, and he discovers that the cleaver has the power to slice through anything. Using his new tool, he becomes a successful businessman, but his success draws the attention of a gang leader who wants the cleaver for himself. The second segment follows the story of a chef (played by Masanobu Ando) who is employed by a wealthy man in order to cook a feast using the mystical cleaver. The chef is given the cleaver, but he misuses it, resulting in a food fight that destroys the feast. The chef then sets out on a journey to redeem himself and the cleaver. The third and final segment centers around a young swordsman (played by Ashton Xu) who is sent on a mission by his master to retrieve the mystical cleaver from a prestigious auction. Along the way, he discovers that the auction is being run by the gang leader who is interested in the cleaver from the first segment. The swordsman must navigate through a series of obstacles in order to retrieve the cleaver and complete his mission. Throughout the film, there are numerous twists and turns as the characters' paths cross and their stories become intertwined. The film is full of action, humor, and intrigue, making for an entertaining and unique viewing experience. Overall, The Butcher, the Chef and the Swordsman is a visually stunning film that is both funny and action-packed. The film's use of different styles and techniques makes it a unique addition to the action-comedy genre. Fans of martial arts films and comedies alike will enjoy this film.