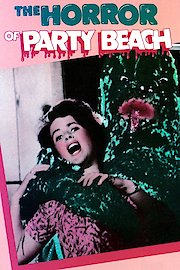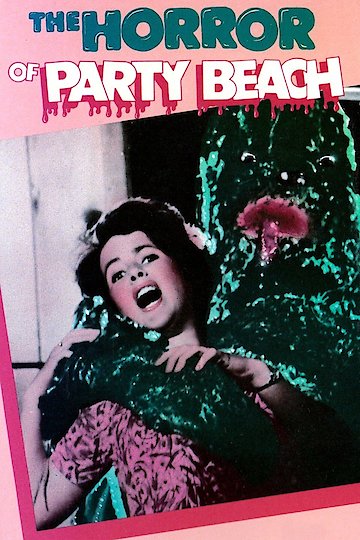 Watch The Horror of Party Beach
"WEIRD! Ghoulish atomic beasts who live off human blood!"
Approved
1964
1 hr 18 min
In 1964, the low-budget horror film The Horror of Party Beach was released, directed by Del Tenney and starring John Lyon, Alice Lyon, and Allan Laurel. The movie became a cult classic because of its entertainingly cheesy combination of horror and beach-themed movie tropes. The basic premise of the movie is that radioactive waste dumped off the coast of a small beach town turns the local dead fish into mutant monsters with a taste for human blood. Soon, beach partygoers and local residents alike are being attacked and disposed of by the slimy, scaly creatures. In an effort to stop the monsters, the heroes of the movie must uncover the truth about the waste and find a way to defeat the creatures.
The Horror of Party Beach leans heavily into the beach party culture of the 1960s, complete with bikini-clad dancers and surf rock music. The juxtaposition between this lighthearted atmosphere and the gruesome violence of the creature attacks adds to the movie's offbeat charm. The acting and writing are notoriously cheesy and over-the-top, but in a way that is endearing to fans of low-budget horror movies.
The film's most memorable element is undoubtedly the monsters themselves. The creatures are designed to look like a cross between a fish and a man, with fins, scales, and pointy teeth. They move by dragging themselves along the ground, and their attacks are accompanied by eerie screeching noises. The monsters' appearances are often aided by the use of bright red blood and gore, which adds to the movie's shock value.
Despite its flaws, The Horror of Party Beach has gained a dedicated following over the years thanks to its campy appeal. The movie has inspired several remakes and spin-offs, including a 1980s punk rock musical version called The Horror of Party Beach: The Musical. Though it may not be a masterpiece of horror cinema, The Horror of Party Beach is a fun and entertaining relic of a bygone era of cinema.
The Horror of Party Beach is a 1964 horror movie with a runtime of 1 hour and 18 minutes. It has received mostly poor reviews from critics and viewers, who have given it an IMDb score of 3.3.