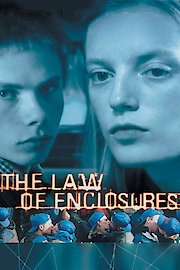 Watch The Law of Enclosures
"In love, out of time."
The Law of Enclosures is a 2000 drama film directed by John Greyson, based on the novel of the same name by Dale Peck. The movie stars Sarah Polley as a young woman named Tedi, who is trying to come to terms with her difficult past and the strained relationships she has with her family members. Diane Ladd and Brendan Fletcher round out the cast as Tedi's mother and brother, respectively.
The film takes place in upstate New York, where Tedi has been living and working as a librarian for several years. She is a quiet and reserved person, often keeping to herself and avoiding social interaction whenever possible. However, she is forced to confront her past when her mother, who has been estranged from her for many years, suddenly shows up at her doorstep looking for a place to stay.
As Tedi reconnects with her mother, she also begins to grapple with the traumatic events that have defined her life. Through a series of flashbacks, we learn about her troubled childhood and the ways in which her dysfunctional family has shaped her sense of identity. We see Tedi as a young girl, struggling to cope with her father's alcoholism and her mother's neglect, and we witness the traumatic event that led to her leaving home and cutting off ties with her family.
As Tedi begins to confront these demons from her past, she also starts to form meaningful connections with the people around her. She strikes up a tentative romance with a local artist named Trace (played by Sean McCann), and she begins to repair her relationship with her brother, who is now struggling with his own personal demons.
The Law of Enclosures is a deeply introspective film, with a heavy emphasis on character development and emotional exploration. The performances by the lead actors are all top-notch, particularly Sarah Polley, who delivers a nuanced and layered portrayal of a woman struggling to come to terms with her past. The cinematography is also noteworthy, with director John Greyson using a variety of visual techniques to convey the complex emotions that his characters are experiencing.
Overall, The Law of Enclosures is a powerful and affecting movie that explores the ways in which our past shapes our present and future. While it can be a difficult film to watch at times, particularly for those who have experienced trauma or familial dysfunction, it ultimately offers a message of hope and resilience. Through Tedi's journey towards self-discovery and healing, we are reminded that even the most broken of us can find strength and redemption.
The Law of Enclosures is a 2000 drama. It has received moderate reviews from critics and viewers, who have given it an IMDb score of 6.1.