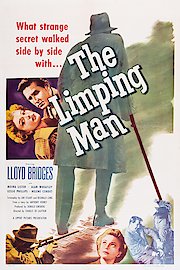 Watch The Limping Man
"What Strange Secret Walked Side By Side with... The Limping Man"
NR
2007
1 hr 17 min
The Limping Man is a thrilling mystery film released in 1953, directed by Cy Endfield and starring Lloyd Bridges, Moira Lister, and Alan Wheatley. The movie follows the story of American ex-serviceman Frank Prior (Lloyd Bridges) who arrives in London to visit a friend but becomes embroiled in a dangerous game of espionage and murder. The movie begins with Prior arriving in London by plane where he is met by his old wartime buddy, Dave (Leslie Phillips). They head to Dave's apartment where Frank meets his wife, Julie (Moira Lister). A series of events then unfold, and Frank witnesses a murder near Dave's apartment. He rushes to the scene of the crime but finds no evidence of the murder, and the police don't believe his story. Frank's life takes a frightening turn when he realizes that he is being followed and watched by some unknown agents. He becomes convinced that Dave's disappearance is connected to the murder he witnessed. The storyline takes a sudden twist when it is revealed that Julie may not be the person she claims to be, and Frank himself is left questioning whom he can trust. As the plot unfolds, Frank becomes increasingly paranoid and uncovers a web of intrigue involving government secrets, gangsters, and international espionage. The stakes become higher as Frank is framed for crimes he didn't commit, and he must clear his name while also trying to expose the true culprits. The movie is full of twists and turns, keeping the audience on edge and guessing until the very end. The cinematography is excellent, with the use of shadows and darkness to heighten the sense of danger and mystery. The background music is also effective in enhancing the suspenseful atmosphere. The acting by the entire cast is superb, with Lloyd Bridges delivering a convincing portrayal of a bewildered and terrified ex-serviceman finding himself in the midst of a deadly conspiracy. The Limping Man was one of the earliest British film noir productions, incorporating many elements of the then-popular genre. It is also an excellent example of the spy thriller genre that became popular during the Cold War years. The film's intriguing plot, combined with its stylish direction, strong performances, and moody visual style, have all contributed to its continuing popularity amongst fans of classic cinema. Overall, The Limping Man is a riveting mystery-thriller that will keep audiences guessing until the very end. With its memorable plot, iconic performances, and suspenseful atmosphere, this British gem is a must-watch for fans of classic cinema, as well as fans of the thriller genre.