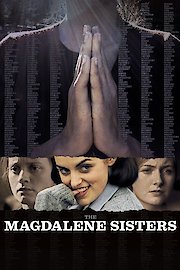 Watch The Magdalene Sisters
"In a place that defied belief their only hope was each other."
R
2002
1 hr 59 min
83
The film entitled The Magdalene Sisters is about the challenges of a group of young ladies in their teens. These three ladies include Margaret who is a victim of rape, Bernadette who is a flirt and Rose who has a baby out of wedlock. The three of them are taken to Magdalene Asylum. This is a place where young ladies who are considered sinners are kept away from their families and friends. When they arrive at the Asylum they meet Sister Bridget who explains to them the objectives of the Asylum. She tells them they are expected to change from their old ways and return to God through prayer with the help and guidance of sisters in the house. During their first night there, Rose is not able to sleep. As a suckling mother, her breasts are full and she yearns to feed her baby. She goes through the night in pains as one other inmate consoles her. Early in the morning, an inmate known as Katy who has been in the Asylum for a longer period tells them stories about the place and even about the escape of an inmate known as Una. Una escaped from the Asylum through the help of one of the sisters there. That same night however, Una comes back to the Asylum accompanied by her father. Her father warns her never to come back home again. Sister Bridget welcomes Una back to the Asylum and encourages her to stay positive. The next day she cut off all the braids Una had made on her hair. The inmates go through tough times in the Asylum but endure it as they have no way of escape. They try to look for ways to fake an escape from the Asylum. However at the end, they are all released. Margaret is taken out by her brother and she later becomes a headmistress. Rose gets married, Bernadette gets married starts working as a hairstylist.