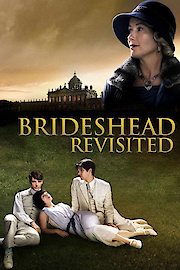 Watch Brideshead Revisited
"Every temptation has its price."
PG-13
2008
2 hr 13 min
64
Brideshead Revisited, released in 2008, is a British drama film based on the novel of the same name by Evelyn Waugh. The movie is set in the 1920s and 30s and follows the story of Charles Ryder (Matthew Goode), a young man who becomes drawn into the world of the aristocratic Flyte family. The story is a complex portrayal of the relationships between the characters and their struggle to reconcile their religious and social beliefs with their personal desires.
The film opens with Charles Ryder, a successful painter, visiting the mansion at Brideshead, which he had not seen since the early 1930s. As he walks through the hallways and corridors, memories of his time at Brideshead come flooding back. The story then flashes back to the 1920s, when Charles was a young student at Oxford University.
At Oxford, Charles becomes friends with Lord Sebastian Flyte (Ben Whishaw), a charming but alcoholic member of the aristocracy who is struggling to come to terms with his homosexuality. Sebastian introduces Charles to his family and to his devoutly Catholic mother, Lady Marchmain (Emma Thompson), who has a deep influence on the lives of her children. Charles is quickly drawn into the world of the Flytes and becomes enamored with their lifestyle, their wealth, and their grand mansion.
As Charles spends more time with the Flytes, he becomes increasingly attracted to Sebastian's younger sister, Julia (Hayley Atwell), who is engaged to the wealthy but boring Canadian businessman Rex Mottram (Jonathan Cake). Charles and Julia struggle to fight their growing attraction to each other, as they are both aware of the disapproval of Lady Marchmain and the potential scandal that would ensue if they were to become involved.
The story then moves forward to the early 1930s, when Charles is a successful painter in London. He is reunited with the Flytes when he is commissioned to paint a portrait of Lady Marchmain, who is now dying of cancer. Charles is forced to confront his feelings for Julia, who is now trapped in a loveless marriage to Rex, and his own conflicted feelings about religion.
Throughout the film, Charles grapples with his own social and religious beliefs and their impact on his relationships with the Flytes. He is torn between his desire for the glamorous life of the aristocracy and his own personal beliefs, including his position as an agnostic. The Flytes, too, struggle with their own beliefs, particularly their devotion to their Catholic faith in the face of adversity.
The performances in the film are outstanding, particularly from Matthew Goode as the conflicted Charles and Ben Whishaw as the charismatic but troubled Sebastian. Emma Thompson delivers a powerful performance as the devout Lady Marchmain, who tries to control the lives of her children and is torn between her faith and her love for her family. The film is beautifully shot, with stunning locations and period detail that perfectly capture the world of the aristocracy in the 1920s and 30s.
Overall, Brideshead Revisited is a beautifully crafted film that explores complex themes of religion, social class, and personal desire in a captivating and poignant way. The film is a faithful adaptation of the novel and is sure to be enjoyed by fans of Waugh's work as well as those who enjoy period dramas.
Brideshead Revisited is a 2008 drama with a runtime of 2 hours and 13 minutes. It has received moderate reviews from critics and viewers, who have given it an IMDb score of 6.7 and a MetaScore of 64.