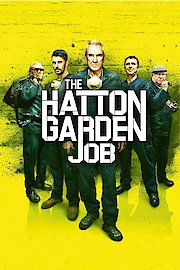 Watch The Hatton Garden Job
R
2017
1 hr 33 min
The Hatton Garden Job is a heist film based on the true story of the Hatton Garden safe deposit burglary that occurred in London over the Easter weekend in 2015. The movie takes place over the course of a few weeks leading up to the burglary and follows a group of aging criminals as they plan and execute the heist. The film begins by introducing the leader of the group, Brian Reader, played by Larry Lamb, a retired thief who is down on his luck and in need of a major score. After being approached by a young criminal named Basil, played by Charlie Cox, Reader gathers a team of old-school robbers to break into a safe deposit facility located in the Hatton Garden area.
The team consists of Billy "The Fish" Lincoln, played by Phil Daniels, a small-time crook with a penchant for fishing; Danny Jones, played by David Calder, a plumber with a history of burglary; and Kenny Collins, played by Clive Russell, a streetwise thug who serves as the muscle of the group. Rounding out the team is Terry Perkins, played by Matthew Goode, a suave and sophisticated criminal who provides the technical know-how needed to bypass the facility's security systems.
As the heist is planned and executed, tensions between the team members arise, and the movie explores the dynamics of the aging thieves and their motivations for pulling off such a dangerous and daring heist. The audience is also introduced to characters on the periphery of the group, including Reader's estranged wife and Basil's girlfriend, who provide additional drama and conflict.
The film is shot in a gritty and realistic style, with London's urban landscape serving as the backdrop for the story. The action sequences are well choreographed, and the tension builds as the team infiltrates the facility and works to bypass the security measures in place. The film also includes flashbacks to previous heists pulled off by the members of the team, which provide insight into their personalities and criminal histories.
Throughout the film, the audience is kept on the edge of their seat as the team navigates unexpected obstacles and confronts the harsh realities of their chosen criminal lifestyle. Despite the high stakes and dangerous nature of the heist, the film manages to inject humor and wit into the proceedings, with well-timed jokes and banter between the characters.
Overall, The Hatton Garden Job is an enjoyable heist film that manages to capture the spirit of the true story upon which it is based. Featuring a talented cast of veteran actors and well-crafted action sequences, the movie is a must-see for fans of the genre. In addition, the movie provides an interesting glimpse into the world of aging criminals and the challenges they face as they attempt to pull off one last job.