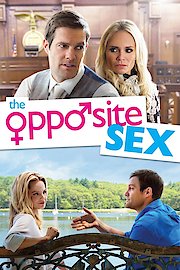 Watch The Opposite Sex
"A battle of the sexes, winner takes all."
NR
2014
1 hr 37 min
Also known as A Bet's a Bet, this romantic comedy features plenty of laughter, romance and drama. Vince (Geoff Stults) is a prominent New England divorce attorney who believes life is a competition and there is no excuse for losing. His driven personality and winner takes all attitude is just as prevalent when it comes to his way with women, as he racks up one night stands. Vince meets Jane (Mena Suvari) a woman who complicates his life when the two of them begin entering a series of interesting and increasingly difficult bets with the winner deciding the loser's fate.
The Opposite Sex is a 2014 comedy with a runtime of 1 hour and 37 minutes. It has received mostly poor reviews from critics and viewers, who have given it an IMDb score of 4.5.