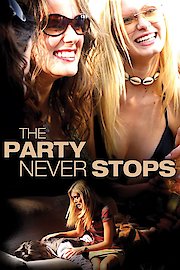 Watch The Party Never Stops: Diary of a Binge Drinker
"a little freedom can be a dangerous thing."
PG
2007
1 hr 29 min
The Party Never Stops: Diary of a Binge Drinker is a 2007 drama film that explores the dark reality of excessive drinking and the psychological effects of alcoholism. The movie is directed by David Wu and stars Sara Paxton as Jesse, a college freshman who spirals out of control due to her uncontrollable urge to binge drink. The film is based on a true story and is intended for mature audiences.
The movie begins with Jesse's freshman year of college. She is an ambitious straight-A student who is excited to start her new life on campus. However, her newfound freedom quickly leads her down a dangerous path of binge drinking and out-of-control behavior. It starts with a few drinks at a party, then turns into a regular occurrence that she can't seem to control.
As Jesse's addiction to alcohol worsens, she begins neglecting her studies and relationships with friends and family. She alienates herself from those who care for her most, and starts to rely on alcohol as her only source of happiness. Her diary, where she records her thoughts and experiences throughout the film, acts as a powerful tool of reflection on her journey through addiction.
Jesse's journey is interwoven with the stories of the people she meets on her journey. She becomes close friends with a group of hard-partying girls who introduce her to different drugs and partying lifestyles. She also forms a complicated relationship with Chris, a young man whom she meets at a party. Chris is a heavy drinker, and their relationship becomes a codependent cycle of drunken nights, bickering, and hurt feelings.
As the film progresses, the audience is shown the harsh consequences of Jesse's choices. She receives a DUI and is forced to undergo drug and alcohol counseling. The repercussions of her actions finally begin to dawn on her, and she realizes that if she doesn't break her addiction, she'll lose everything that's important to her.
The Party Never Stops: Diary of a Binge Drinker is a film that raises important questions about addiction and the destructive impact of drinking. It's a cautionary tale that encourages viewers to examine their own relationship with alcohol and to take steps to avoid becoming a victim of addiction.
The performances of the film's cast are especially noteworthy. Sara Paxton is outstanding as Jesse, delivering a powerful and nuanced portrayal of a woman struggling with addiction. Chelsea Hobbs is equally excellent as Jesse's roommate, engaging in a different kind of addiction and exploring issues surrounding eating disorders.
Overall, The Party Never Stops: Diary of a Binge Drinker is a important and valuable film that should be watched by anyone who has ever struggled with addiction or who has seen friends and loved ones battle with addiction. It may not be an easy film to watch, but it's an important one. It's a powerful reminder of the toll that addiction can take and the importance of facing this disease head on.
The Party Never Stops: Diary of a Binge Drinker is a 2007 drama with a runtime of 1 hour and 29 minutes. It has received moderate reviews from critics and viewers, who have given it an IMDb score of 5.5.