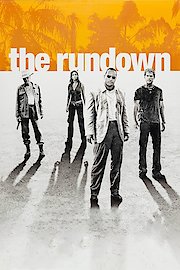 Watch The Rundown
"Bulls, guns, whips, gold and one sacred cat"
PG-13
2003
1 hr 44 min
59
The Rundown is an action-comedy movie from 2003 that stars Dwayne Johnson, Seann William Scott, and Christopher Walken. The movie follows the story of a tough-guy bounty hunter named Beck (played by Dwayne Johnson), who is sent on a mission to retrieve the wayward son of a wealthy businessman. However, the mission soon becomes much more complicated when Beck finds himself caught up in a dangerous and deadly battle between rival factions in a small mining town in the heart of the Brazilian jungle.
Along the way, Beck forms an unlikely partnership with a wisecracking con artist named Travis (played by Seann William Scott), who has his own reasons for being in the town. The two men team up to try to outwit the various factions vying for power in the town, including a ruthless dictator named Hatcher (played by Christopher Walken).
The Rundown is a fast-paced and exciting action movie that combines thrilling fight scenes, high-stakes adventure, and a healthy dose of humor. The chemistry between Johnson and Scott is a major highlight of the movie, as they play off each other's strengths and weaknesses to create a memorable duo that keeps audiences entertained from start to finish.
Despite being an action movie at its core, The Rundown has a surprising amount of heart and depth. The story manages to tackle themes of loyalty, friendship, and redemption, all while keeping the audience on the edge of their seats with non-stop action and adventure.
Dwayne Johnson shines in the lead role, bringing his signature charisma and physicality to the character of Beck. He is a tough-as-nails hero who is not afraid to get his hands dirty, but he also has a softer side that comes out when he is protecting those he cares about.
Seann William Scott is equally impressive in his role as Travis, injecting the movie with his trademark humor and wit. His character may be a con artist, but he has a good heart and a moral compass that shows through in the way he interacts with the other characters.
Christopher Walken is, as always, a standout in his role as Hatcher. He brings a sense of menace and danger to the character, making him a formidable and memorable villain.
Overall, The Rundown is an entertaining and exciting action-comedy that delivers on all fronts. It has a strong cast, thrilling action sequences, and a compelling story that keeps audiences hooked from beginning to end. Whether you are a fan of Dwayne Johnson, Seann William Scott, or Christopher Walken, or you just love a good action movie, The Rundown is definitely worth checking out.
The Rundown is a 2003 adventure movie with a runtime of 1 hour and 44 minutes. It has received moderate reviews from critics and viewers, who have given it an IMDb score of 6.6 and a MetaScore of 59.