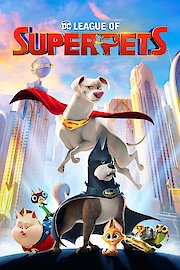 Watch DC League of Super-Pets
"Sit, stay, save the world."
PG
2022
1 hr 46 min
56
The upcoming 2022 DC animated movie titled DC League of Super-Pets will bring a new team of superheroes to the big screen. The movie will feature a star-studded cast including Dwayne Johnson, Kevin Hart, and Kate McKinnon. The film promises to be a fun-filled superhero adventure for the whole family. DC League of Super-Pets will follow the story of Krypto the Superdog, who is the sidekick of Superman. Krypto's life will take an unexpected turn when he finds himself lost in the city and gets recruited by a group of fellow pets who are also superheroes. The team consists of Ace the Bat-Hound, who is Batman's pet, Martian Manhunter's dog named Dex-Starr, and a myriad of other animals who possess extraordinary powers thanks to their exposure to unique meteorites. The team of animal superheroes will embark on a mission to save the world when they discover that the notorious villain - Lex Luther - has teamed up with the evil parrot, Polka-Dot Man. The two are planning to take over the world and eliminate their adversaries. DC League of Super-Pets will be an excellent opportunity to see the dog and cat fight at a global level! The characters will be voiced by well-known Hollywood actors, with Dwayne "The Rock" Johnson playing Kryptonian dog, Krypto, and Kevin Hart playing Ace the Bat-Hound. Kate McKinnon will voice the villainous Polka-Dot Man, while comedian John Krasinski will voice Superman. DC League of Super-Pets will be directed by Jared Stern, who is also known for his work on The Lego Batman Movie and The Lego Ninjago Movie. The film's animation style is expected to be visually appealing, with bright colors and high-definition graphics that will bring the characters to life. The trailers and teasers that have been released so far indicate that the movie will be comedic, light-hearted, and enjoyable for both young and old audiences. One exciting aspect of DC League of Super-Pets is the opportunity to see familiar DC characters reimagined as animal companions. For example, we will see Superman's trusty sidekick Krypto and Batman's pet dog, Ace the Bat-Hound, teaming up with the other pets in the league. It will be interesting to see how the animal companions add a unique perspective to the well-known DC superhero universe. Overall, DC League of Super-Pets is shaping up to be an entertaining action-packed adventure movie. With a cast of talented voice actors and an exciting plot, the film promises to be a fun watch for fans of DC comics and animation alike. With the movie's release just around the corner, fans of the superhero genre will be eagerly anticipating a movie that combines action, comedy, and furry heroes.