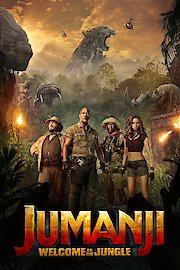 Watch Jumanji: Welcome To The Jungle
"The game has evolved."
PG-13
2017
1 hr 59 min
58
Jumanji: Welcome To The Jungle is a 2017 American action-adventure comedy film directed by Jake Kasdan and written by Chris McKenna, Erik Sommers, Scott Rosenberg, and Jeff Pinkner. The movie stars Dwayne Johnson, Karen Gillan, Kevin Hart, and Jack Black. The movie is a standalone sequel to the 1995 film Jumanji, which was based on the children's book of the same name by Chris Van Allsburg. The movie revolves around four teenagers who find an old video game and get sucked into the game's jungle setting, becoming their chosen avatars. They must work together and try to survive the game's many dangerous obstacles and puzzles before they can return to the real world.
Spencer (Alex Wolff), a shy and awkward teenager, is transported into the body of Dr. Smolder Bravestone (Dwayne Johnson), a fearless explorer and archaeologist. His best friend Martha (Morgan Turner) becomes Ruby Roundhouse (Karen Gillan), a skilled fighter and dance-fighter. Fridge (Ser'Darius Blain), a popular jock, turns into the short and comical Franklin "Moose" Finbar (Kevin Hart), a zoologist and weapons specialist. Finally, Bethany (Madison Iseman), a vain and self-centered girl, becomes Professor Sheldon "Shelly" Oberon (Jack Black), a middle-aged cartographer and academic.
The four teenagers soon realize that the only way to beat the game is together, using their newfound skills and working as a team. Along the way, they face many challenges like man-eating hippos, deadly snakes, and ruthless mercenaries. They also meet Alex (Nick Jonas), a pilot who has been stuck in the game for decades and helps them navigate the jungle.
One of the highlights of the movie is the hilarious interactions between the four teenagers and their chosen avatars. Watching the awkward Spencer try to navigate the muscular and confident Dr. Bravestone's body or seeing the vain Bethany struggle as a middle-aged man is both entertaining and engaging.
Overall, Jumanji: Welcome To The Jungle is an action-packed adventure that is both funny and heartwarming. The movie manages to capture the spirit of the original Jumanji while also bringing something new and fresh to the franchise. Watch Jumanji: Welcome To The Jungle Online and embark on a thrilling adventure with these four teens in the dangerous and exciting Jumanji game.
Jumanji: Welcome To The Jungle is a 2017 adventure movie with a runtime of 1 hour and 59 minutes. It has received moderate reviews from critics and viewers, who have given it an IMDb score of 6.9 and a MetaScore of 58.