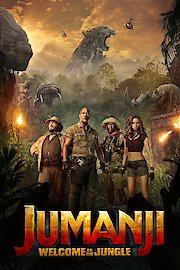 Watch Jumanji: Welcome To The Jungle
"The game has evolved."
PG-13
2017
1 hr 59 min
58
In this fantasy adventure, four young people get more than they bargained for when they find themselves sucked into a video game. Making the situation even wackier, the quartet gets plunked into fantasy bodies that don't at all resemble their real-world selves. Jumanji: Welcome to the Jungle stars Dwayne Johnson, Kevin Hart, Karen Gillan and Jack Black.