Watch Puss in Boots
"Live for danger. Fight for justice. Pray for mercy."
Puss in Boots ia an animated children's movie about a cat and his adventures. Puss in Boots is an outlaw and he will do anything to win the hearts of the people of San Ricardo back. While in a saloon, he learns of the magic beans that Jack and Jill are protecting. The patrons tell him of untold riches, if these beans are planted. Puss decides to go after them.
He finds where Jack and Jill are staying. He sneaks in only to be thwarted by Kitty Softpaws. Jack and Jill chase the both of them out. Puss decides to follow her and finds out that she is working for his ex-best friend Humpty Dumpty. Humpty persuades Puss into his plan of stealing the beans and going after the golden eggs.
They get the beans and climb up the stalk. All around them are golden eggs. They attempt to pick up the eggs, but they are too heavy. They steal the baby gosling. They get back down to the desert to celebrate only to be captured and knocked out by Jack and Jill. Puss wakes up alone.
He heads back to San Ricardo and finds out that Humpty, Kitty, Jack and Jill were working together all along. Humpty has set Puss up and he is captured by the guards. He is thrown in jail. He meets the real Jack and he tells him that the mother goose will be coming for her baby and will destroy the town if she is not stopped.
Puss escapes with the help of Kitty who has feelings for Puss. Puss finds Humpty and tells him of the mother goose and the destruction she will cause to the town if they do not get the baby out of town. Mother and baby are reunited and the town is saved. Puss is still an outlaw, but is loved by the town.
|
2011
|
1 hr 30 min
|

/

10
Cast

Studio

Director

Chris Miller

Language

English
Puss in Boots News
Weekend Box Office: 'Breaking Dawn' Sucks Up Big Money
November 21, 2011 @ 5:48 am PST
|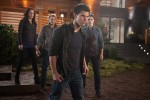 It should come as no surprise to anyone that "The Twilight Saga: Breaking Dawn, Part I" took the top spot at the box office this weekend. It certainly wasn't going to let a bunch of dancing cartoon penguins stop it, no matter how fuzzy and cute they are.
Read More

Weekend Box Office: 'Puss in Boots' Digs In Its Claws for Massive Hold
November 06, 2011 @ 6:43 pm PST
|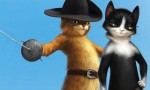 The way that big studio movie releases are designed nowadays, the aim is often to make back the film's budget in a big first weekend and not worry about the holdover down the line. Not the case this time. "Puss in Boots" made almost as much this weekend as in its first weekend, beating out "Tower Heist."
Read More

Weekend Box Office: 'Immortals' Opens Strong Worldwide, 'Jack and Jill' Going Downhill
November 13, 2011 @ 11:54 am PST
|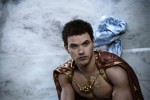 With three new openers that are original movies (no sequels or remakes), a slightly weak weekend box office is to be expected. Sure enough, the three films that opened this weekend were a bit soft domestically. I guess you just can't sell a movie unless people already know the characters and (usually) the plot.
Read More

Weekend Box Office: 'Puss in Boots' Ousts 'Paranormal'...For Now
October 30, 2011 @ 11:41 am PST
|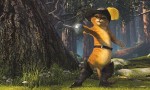 It was Halloween weekend, a blizzard hit the Northeast, and most of the new releases had poor reviews from critics. All in all, it wasn't a great weekend at the box office. However, one movie in particular did very well...and it's not the one you would expect to do well over Halloween.
Read More


Watch Puss in Boots Trailer

Watch Puss in Boots Online - Watch online anytime anywhere: Stream, Buy, Rent
Puss in Boots is currently available to watch and stream, buy, rent on demand at Amazon, Vudu, Google Play, FandangoNow, YouTube VOD, iTunes online.