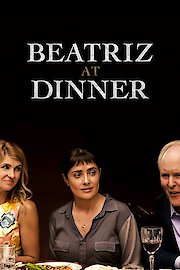 Watch Beatriz at Dinner
"She was invited, but she's not welcome."
PG-13
2017
1 hr 23 min
68
In this comedy drama, a alternative medicine practitioner goes to dinner at the home of a client, where she encounters another guest, a ruthless real estate investor who's her ideological opposite. Fireworks fly as the two guests clash. Salma Hayek and John Lithgow star.