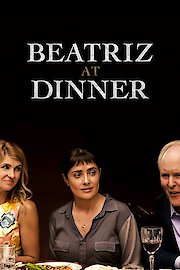 Watch Beatriz at Dinner
"She was invited, but she's not welcome."
PG-13
2017
1 hr 23 min
68
"Beatriz at Dinner" is a drama-comedy film released in 2017. The movie portrays a clash of personalities between two very different individuals belonging to opposite ends of the societal stratum. Salma Hayek plays the protagonist, Beatriz, a holistic health practitioner who works as a massage therapist in Southern California. John Lithgow plays Doug Strutt, a corporate real estate developer who runs a multi-billion dollar business empire.
Beatriz is invited to attend a dinner party hosted by her client at a luxury villa. Once she arrives at the party, Beatriz realizes that she is the only one of Latin American descent and is regarded as an outsider. The eclectic guest list includes business associates, lawyers, and socialites, all enjoying the glamorous lifestyle of the host.
As the night wears on, Beatriz becomes more and more uncomfortable with the conversation topics and the way in which the guests conduct themselves. Doug, who stands out as the most obnoxious of the guests, is so arrogant and confident in his values that he fails to see others as equals. In contrast, Beatriz has a deep sense of empathy and is genuinely concerned about the problems that plague society.
Doug and Beatriz eventually come face to face, and it soon becomes clear that neither can tolerate the other's views. Doug appears entirely dismissive of Beatriz, which further deepens their divide. As the conversation becomes more contentious, Beatriz challenges Doug on his business practices, environmental policies, and his general lack of empathy for people.
The movie explores themes of class, race, power, and privilege. Beatriz represents the antithesis of Doug's lifestyle, articulating thoughts and concerns that are often lost in the world of luxury and power. She has a strong sense of justice and feels accountable to society, which contrasts starkly with Doug, who is only interested in maximizing his profit margin.
Although the film has several humorous moments, it is a dark comedy more than anything else, reflecting on the isolation that often accompanies being outside of the dominant, wealthy culture. While the humor emerges from the clash between the estranged perspectives of the guests, it's easy to identify with Beatriz and her outsider experience.
Hayek and Lithgow deliver powerful performances, and the film is masterfully directed by Miguel Arteta. At its core, Beatriz at Dinner is a parable about today's society that speaks to the surreal period we're living in. It's a sobering and amusing commentary that ponders the age-old question of whether or not it's possible to break down the walls that separate us.
In conclusion, "Beatriz at Dinner" is a poignant and well-crafted movie that offers a satirical take on modern-day power dynamics. The two central characters make an unforgettable impression, with Salma Hayek's performance being particularly compelling. The film raises important questions about privilege, entitlement, and dispossession, and is a timely social commentary in today's world.
Beatriz at Dinner is a 2017 comedy with a runtime of 1 hour and 23 minutes. It has received mostly positive reviews from critics and viewers, who have given it an IMDb score of 6.0 and a MetaScore of 68.