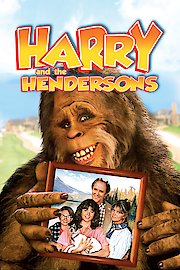 Watch Harry and the Hendersons
"When You Can't Believe Your Eyes, Trust Your Heart."
PG
1987
1 hr 50 min
42
'Harry and the Henderson' is a 1987 comedy produced and directed by William Dear. Starring John Lithgow, Don Ameche, David Suchet, and Kevin Peter Hall as Harry, it is a family-oriented play on the Big Foot myth. George Henderson (Lithgow) and his family are en route home from a camping excursion when their station wagon collides with a mysterious object. Horrified and shocked, George discovers he has run over and killed Big Foot. At a loss for what to do, the Hendersons decide to take the creature home, securing it to their vehicle's roof. The Hendersons are harmless and oblivious, unaware a Big Foot hunter is fast on their trail. After the hunter stumbles upon the Hendersons' license plate, which came loose when they hit Big Foot, he tracks them to their home. Later, at the Hendersons' home, George checks on Big Foot, whom he believes is still strapped to the top of the family vehicle. But he finds Harry alive... and gone. Noises from the kitchen alert George to the creature's presence. George discovers him perusing the overturned fridge, desperate to obtain food. George is charmed by the creature, naming him Harry. He subsequently attempts to return him to the wild, but Harry flees instead. The Hendersons are disappointed but decide to continue with life as usual. However, news of an increase in Big Foot sightings and a flurry of media attention provoke George to find Harry, so as to protect him. After a sighting nearby, George goes into the city to locate Harry. Harry's hunter, a discredited scientist named Jacques La Fleur (Suchet), closes in on Harry, piecing together clues gleaned from news stories about the citizens' various encounters with Harry. Dr. Wrightwood (Ameche), another scientist who's become a laughingstock for believing in Big Foot, arrives at the Hendersons' house, urging George to give up his quest. But he soon joins George, and they make haste to find Harry before La Fleur.