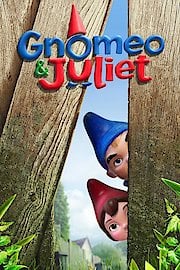 Watch Gnomeo and Juliet
"A LITTLE ADVENTURE GOES A LAWN WAY."
G
2011
1 hr 24 min
53
Romeo and Juliet, the Shakespearean classic, has been read, performed, and taught for centuries. More recently, within the last 50 years, the famous play has been made into motion pictures and television specials, but for the first time ever the feuding Montagos and Capulates make it into the animated world. "Gnomeo and Juliet", a 2011 film by Touchstone Pictures, take a creative and child-friendly take on the tale of feuding families and star-crossed lovers. The movie centers around Juliet, a garden gnome who catches the eye of Gnomeo, a fellow gnome, but these two would-be lovers are caught up in a garden feuds that threaten their eternal happiness together; just as feuding families came between the original couple; Romeo and Juliet. The red gnomes and the blue gnomes have been in competition with one another for years. A rigged lawnmower race sets off a series of pranks and attempts to avenge the lawnmower cheating. When Gnomeo and his best friend head over to pay the red gnomes a visit they end up tripping security features and have to race away from the scene. There they bump into Juliet; the daughter of the red gnome leader. Gnomeo and Juliet fall instantly in love, but their dueling gardens and their own loyalties can potentially get in the way of their union. The pair meet secretly knowing their respective families wouldn't approve of the union. Along the way they find a confidant in Featherstone, a lawn flamingo. Featherstone encourages the pair to love one another regardless of the familial consequences. Featherstone has personal reasons for encouraging the pair that he later reveals. As their love develops the war wages on between the two sides; a potentially fatal blow is thrown to the couple when the Red gnomes infiltrate the garden and destroy a plant that Gnomeos father took great pride in. Gnomeo is chosen to avenge the act and he and Juliet argue over it. While this film doesn't end as the previous Romeo and Juliet story does it tells a rather entertaining tale of young love and the wars that wage between families for futile reasons.