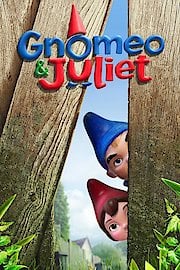 Watch Gnomeo and Juliet
"A LITTLE ADVENTURE GOES A LAWN WAY."
G
2011
1 hr 24 min
53
Gnomeo and Juliet is a 2011 animated comedy from Touchstone Pictures, directed by Kelly Asbury. The film is a retelling of the classic Shakespearean tragedy, but with a twist: it's set in the world of garden gnomes. In the film, we are introduced to two neighboring gardens belonging to two families of garden gnomes, the Blues and the Reds, who are locked in a bitter and long-standing feud. Gnomeo (James McAvoy) is a member of the Blue garden, while Juliet (Emily Blunt) is from the Red garden. Despite their families' rivalry, Gnomeo and Juliet fall in love and begin a secret romantic relationship.
Their love affair is complicated by the fact that Tybalt (Jason Statham), Juliet's cousin, and the warlike Tybalt (Michael Caine), Gnomeo's uncle, are both determined to keep the pair apart. On top of that, a series of misadventures and mishaps occur, leading to a high-stakes lawnmower race that could determine the fate of both gardens.
As the two lovers try to navigate their way through family rivalries, they find themselves facing a range of other dangers, from a psycho lawnmower (voiced by Hulk Hogan) to the lurking threat of a sinister sewer rat (voiced by Jim Cummings). Maggie Smith also features in a supporting role as the stern and traditional Lady Bluebury, Gnomeo's mother.
The film's writing and animation are both top-notch, ensuring that the movie is enjoyable for viewers of all ages. The animation is bright, colorful, and visually stunning, giving life to the various gnomes and their surroundings. But beyond the dizzying array of visual treats, the movie has a clever script with plenty of witty jokes and self-aware humor.
Central to the film's success is the voice cast, who bring the various gnomes to life with humor and charm. James McAvoy and Emily Blunt have great chemistry as the star-crossed lovers, and their performances give the film the heart it needs to be more than just a generic family comedy. Additionally, Maggie Smith brings her considerable acting chops to her role, creating an indelible character in Lady Bluebury.
Gnomeo and Juliet may not be a highbrow or intellectually challenging film, but it's a delightful and charming movie that is sure to delight viewers of all ages. It's a smart, funny, and engaging take on an old classic, and it's well worth a watch - whether you're a fan of Shakespeare or just looking for a fun and uplifting animated feature.
Gnomeo and Juliet is a 2011 animated movie with a runtime of 1 hour and 24 minutes. It has received moderate reviews from critics and viewers, who have given it an IMDb score of 5.9 and a MetaScore of 53.