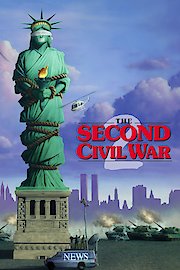 Watch The Second Civil War
"A very uncivil comedy"
R
1997
1 hr 36 min
In the year 2007, the United States finds itself in the midst of a second civil war, caused by a divisive immigration issue. The film features a diverse cast of characters representing a range of viewpoints on the issue, as well as the media circus that surrounds the conflict. Beau Bridges stars as President Jim Farley, who is faced with mounting pressure from both sides of the immigration debate. On one side, there are the conservatives who believe in closed borders and strict immigration laws, led by Governor Farley (played by James Coburn). On the other side are the liberals who believe in a more open and inclusive society, represented by Governor Haskell (Joanna Cassidy).
As tensions rise, the media takes center stage, with a frenzied, 24-hour news cycle covering every aspect of the conflict. Phil Hartman plays anchorman, Jim Kalla, who becomes a key player in the drama as he tries to navigate the tricky waters of unbiased reporting while also grappling with his own personal beliefs.
The film also examines the impact of the war on individuals and families, including an illegal immigrant and her young daughter who become caught in the crossfire, a soldier who questions the morality of his orders, and a White House aide who struggles to maintain her professional integrity in the face of political pressure.
As the situation grows increasingly dire, President Farley is forced to evaluate his own beliefs and take drastic action to prevent the country from descending into chaos. The film's climax builds to a shocking and unexpected finale that finds many of the characters faced with challenging moral and ethical dilemmas.
Overall, The Second Civil War is a thought-provoking and insightful look at the complex issue of immigration and the political and social divisions that it can create. With a talented cast and sharp writing, it offers a compelling and timely exploration of a topic that remains as relevant today as it was when the film was released in 1997.
The Second Civil War is a 1997 drama with a runtime of 1 hour and 36 minutes. It has received mostly positive reviews from critics and viewers, who have given it an IMDb score of 6.6.