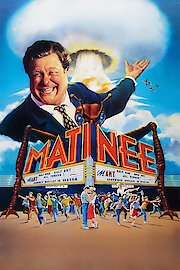 Watch Matinee
"Lawrence Woolsey presents the end of civilization as we know it. Make that... Proudly Presents!"
PG
1993
1 hr 39 min
Matinee is a delightful comedy-drama movie from 1993 directed by Joe Dante. The movie features John Goodman, Cathy Moriarty, and Simon Fenton in leading roles. Set in the early 1960s in Key West, the story revolves around a teenage boy named Gene Loomis, who is a big fan of horror movies. Gene is a shy and introverted boy who loses himself in the fantasy world of horror movies. His family is moving away from Key West, and he is sad to leave his home and friends. However, he discovers that a famous horror movie maker, Lawrence Woolsey, is coming to Key West to premiere his new movie, "Mant," in a local theater. Gene is thrilled and wants to attend the movie screening.
Woolsey is an eccentric filmmaker who loves to create immersive movie experiences. He brings in all sorts of special effects and gimmicks to make the audience feel part of the movie. He plans to showcase his new movie, "Mant," in Universal Studios' latest technology called Atomo-Vision, which promises a 3D-like viewing experience.
Gene is excited to meet Woolsey and offers to help him with the movie promotion. He becomes Woolsey's assistant and helps him distribute fliers, set up props, and even make a promotional video. In the process, Gene learns about the art of filmmaking and gains confidence in himself.
Woolsey's arrival in Key West also causes a buzz among the community. Some people are excited to experience Hollywood's latest technology, while others, including Gene's mom, are skeptical of the impact of horror movies on young children. Gene's mom, Ruth, is a strict disciplinarian, who is worried about her son's fascination with violent movies. She complains to the authorities and tries to prevent the movie from screening.
The conflicts between the proponents and opponents of the movie create tension in the community. The tensions come to a head when Hurricane Donna approaches the town on the night of the movie premiere. The hurricane threatens to disrupt the screening, but Woolsey is determined to put on a great show, come hell or high water.
What I liked about the movie is its endearing portrayal of a small-town community in the 1960s. The movie captures the nostalgia of a time when people went to the cinema to escape reality and experience something magical. The movie also has some great comic moments, particularly John Goodman's performance as the flamboyant Woolsey. Cathy Moriarty also gives an excellent performance as Ruth, Gene's mom, who has a change of heart by the end of the movie.
The movie also has some great filmmaking references, such as the homage to a famous scene in "The Blob," which Woolsey recreates for his movie. The movie's climax, which takes place during the hurricane, is an excellent example of how to create suspense and drama through visual and sound effects.
In conclusion, Matinee is a charming movie that celebrates the magic of cinema and the power of imagination. It is a feel-good story that leaves you with a smile on your face. If you love movies and want to experience a movie that captures the nostalgia of a different era, give Matinee a watch.
Matinee is a 1993 comedy with a runtime of 1 hour and 39 minutes. It has received mostly positive reviews from critics and viewers, who have given it an IMDb score of 6.9.