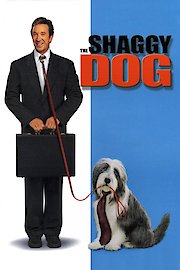 Watch The Shaggy Dog
"It's going to be a ruff day."
PG
2006
1 hr 38 min
43
The Shaggy Dog from 2006 is a family-comedy movie starring Tim Allen, Kristin Davis, and Craig Kilborn. The story revolves around Dave Douglas, a successful assistant district attorney who is prosecuting Dr. Kozak, a lab researcher who is suspected of illegal animal experimentation. Dave's wife, Rebecca, and their children, Carly and Josh, are enthusiastic animal lovers and regularly visit animal shelters to rescue dogs. One fateful day, Dave is bitten by a mysterious dog while investigating the lab where Dr. Kozak works. After returning home, he begins to experience strange behavior and uncontrollable urges. As he struggles to adjust to his transformation, which includes experiencing dog senses and behaviors, his family is thrown into a chaotic adventure helping him find a cure. Dave's newfound ability to communicate with dogs leads him to discover that Dr. Kozak has a secret lab in his basement, where he is conducting illegal genetic experiments on animals. With the help of a K-9 police dog, Dave tries to expose Dr. Kozak's heinous activities, but is met with resistance from his colleagues, the police and his family. As Dave's transformation continues, he becomes increasingly distant from his family and friends, but ultimately realizes the importance of staying true to his human nature. He reconnects with his family, and together they develop a plan to stop Dr. Kozak's illegal activities once and for all. The Shaggy Dog is a heartwarming story that combines comedy, action, and adventure. The movie explores themes of family values, responsibility, and the importance of doing the right thing. It also features an ensemble cast that delivers outstanding performances, particularly Tim Allen, who portrays Dave's transformation hilariously. Overall, The Shaggy Dog is an entertaining and family-friendly movie that will charm audiences of all ages. Its heartwarming story and fantastic acting make it a must-see for anyone looking for an enjoyable family comedy.