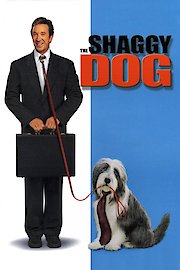 Watch The Shaggy Dog
"It's going to be a ruff day."
PG
2006
1 hr 38 min
43
The Shaggy Dog is a family fun favorite starring Tim Allen as Dave Douglas, a deputy district attorney who is on top of his game in the lawyer division. In the movie he is prosecuting activists that have broken into a pharmaceutical corporation that they believe is using animals for experimental use on their fountain of youth drug. Though he believes that they are guilty, Dave finds his daughter Carly believes the activists are correct. The geneticists working for Mr Strictland (Phillip Baker Hall} and Dr. Kozak (Robert Downey Jr.) have stolen a dog named Khyi Yang Po that has a mutation in his genes that causes him to live a long lifespan. Feeling this genetic coding will help their cause, they work on using the gene in to many test subject animal. With some of the vaccine still inside of Khyi Yang Po, he escapes the facility and is found by Carly and her friend Trey. They bring him back to their house and name him Shaggy thinking he is a stray. Dave is not too pleased at the dog, after he receives a bite on the hand, infecting him. After being infected from the bite unknown to him, Dave called the Humane Society to test the dog for rabies. Slowly afterwards Dave begins to have the habits of a dog, including knowing the presence of other dogs, and chasing cats. He becomes an exact replica of the dog, and only transforms during his sleep. Throughout his transformation he learns many things he did not realize in his normal self, he and his family are estranged, and his own family doesn't believe he loves them at times. Is this change in his life a curse, or a blessing, viewers will be able to see all the challenges he will face in this action packed family movie running at a total at 98 minutes.