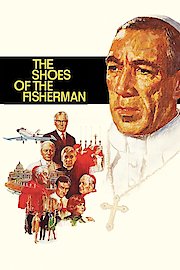 Watch The Shoes of the Fisherman
"In a last desperate effort to prevent World War III, a secret meeting is arranged. One man is called upon to succeed where all the world leaders have failed. That man was once a prisoner in a Russian labor camp. He is now the Pope."
Shoes of the Fisherman (1968), is set in the futuristic late eighties. At this time, the world is dealing with looming nuclear conflict and global destruction. The main conflict is between China and the United States. The Soviets have also lined up against China, where there is currently a famine. The United States has put serious constraints on trade with the Chinese. So, leadership and problem solving, is badly needed, on an international scale, in this Cold War tale of faith amidst disruptive geopolitics. The opening sees Kiril Lakota, Archbishop from the Ukraine, emerging from Soviet incarceration, following two decades as a political prisoner in Siberia. Lakota is sent to Rome as a Cardinal, as a political appointee. Lakota is then elected Pope, as described through the eyes of David Jannsen, playing an embedded TV reporter. During the course of the film, Pope Kiril I, in the first non-Italian papacy of four centuries, is charged with a major role in the managing of world upheaval. Also, personally, Kiril attempts to intervene in the ongoing strife experienced by his good friend, the priest Father Telemond, who is under suspicion for his unusual beliefs. Furthermore, this Pope is humble and non-materialistic, so his actions and beliefs are somewhat controversial. Kiril likes to go out in crowds, and mix with and minister to the poor, as Jesus did. Also, the Pope offers to sell the jewels of his office, including his crown, in order to feed the millions of starving Chinese. He encourages other nations and other peoples to do likewise. In this respect, this movie portrays certain tenets of Catholic faith and practice. It's also a depiction of human conflict between values and political realities. Throughout the film, the theme of submission and obedience to authority, is pervasive. Finally, some of these issues as shown in the movie are still around today.