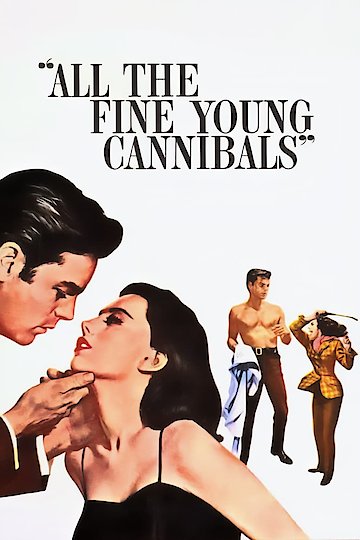 Watch All the Fine Young Cannibals
"There are no rules... there is no limit... IN THE LOVE-HUNGRY WORLD OF THESE YOUNG SOPHISTICATES!"
1960
1 hr 52 min
All the Fine Young Cannibals is a 1960 drama film directed by Michael Anderson and starring Robert Wagner, Natalie Wood, and Susan Kohner. The film follows the complicated love story of two people - Chad Bixby (Wagner), a successful jazz musician, and his girlfriend, Sarah "Salome" Davis (Wood), a former nightclub dancer who dreams of a better life.
Chad and Salome are deeply in love but their relationship is fraught with challenges. Chad's career takes him on the road, leaving Salome at home and lonely. Salome becomes increasingly frustrated with her stagnant life in a small southern town and dreams of something more exciting. Her desire for something new leads her to meet and fall in love with a wealthy playboy, Tony (George Hamilton). As she becomes more entangled with Tony, Salome must choose between the life she has always known with Chad or the luxurious life that Tony can offer her.
The film also explores issues of class and race through the relationship between Chad's sister, Catherine (Kohner), and her African American boyfriend, Davis (John Ireland). Catherine's wealthy family is strongly opposed to her relationship with Davis, and her father even threatens her with disinheritance if she doesn't end the relationship. The tensions between the two families eventually boil over, leading to a climactic scene at a party where Chad and Salome are seen having an argument.
All the Fine Young Cannibals is a beautifully shot film with lush locations and detailed costumes. The jazz music throughout the film perfectly captures the energy and emotion of the story. The film also has excellent performances from its lead actors, especially Wagner who brings a raw intensity to his role as Chad, and Wood who is charming and scene-stealing as Salome.
Overall, All the Fine Young Cannibals is a compelling melodrama that explores love, race, and class in a way that was groundbreaking for its time. With its intricate characters and complex relationships, the film remains relevant today and is a must-see for classic movie buffs.