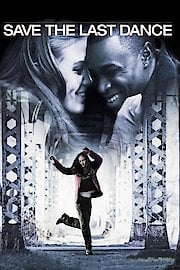 Watch Save the Last Dance
"The Only Person You Need To Be Is Yourself."
PG-13
2001
1 hr 52 min
53
Save the Last Dance is a powerful and emotional movie that tells the story of Sara Johnson (Julia Stiles), a promising young ballerina who is forced to move to an inner-city Chicago school after her mother's death. Sara is struggling to come to terms with her loss, but she is determined to continue her dance career and pursue her dreams. At her new school, Sara meets Derek (Sean Patrick Thomas), a talented hip-hop dancer who helps her to find a new rhythm and style. As they get to know each other, Sara and Derek discover that they have a deep connection, and they soon fall in love. However, their relationship is challenged by the racial and cultural tensions in their community, as well as by their own personal struggles and obstacles. Throughout the movie, we follow Sara and Derek as they navigate their way through high school life, deal with their own personal demons, and try to overcome the prejudices and obstacles that threaten to tear them apart. Along the way, we are treated to some amazing dance sequences, which showcase both the beauty and the power of ballet and hip-hop. One of the things that makes Save the Last Dance stand out is the strong performances by its cast. Julia Stiles is excellent as Sara, capturing her vulnerability, determination, and passion for dance. Sean Patrick Thomas is equally impressive as Derek, bringing a sense of intensity and charisma to the role. Kerry Washington also shines as Chenille, Derek's sister, who becomes Sara's closest friend and confidante. Another aspect of the movie that is noteworthy is its portrayal of race and culture. Save the Last Dance does an excellent job of exploring the complexities and challenges of living in a multi-cultural society, and it provides some important insights into the experiences of African-American and Caucasian teenagers. The movie tackles issues such as racism, poverty, and parental expectations with sensitivity and honesty, and it leaves a lasting impression on the audience. In conclusion, Save the Last Dance is a must-see movie for anyone who loves dance, romance, and powerful storytelling. It is a moving and inspiring film that celebrates the power of love, the importance of perseverance, and the beauty of diversity. With its engaging characters, excellent performances, and breathtaking dance sequences, this movie is a true classic that will be enjoyed by audiences for years to come.