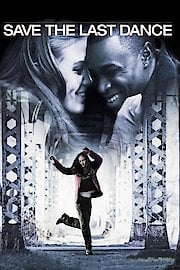 Watch Save the Last Dance
"The Only Person You Need To Be Is Yourself."
PG-13
2001
1 hr 52 min
53
Save the Last Dance is a great movie. It takes place in New York. A white girl who loves to dance and has a chance at getting into one of the leading dance schools ends up moving in with her father after her mother passes away when she was involved in an accident. Her father and her have an estranged relationship to say the least. When she goes to live with her father, the girl has to change schools. It's in the ghetto of New York and she finds that as a white person, she is the minority. She meets a girl in the halls and the two become friends. When she goes to the club with a fake ID and meets the girl's brother she falls for him. She had given up on dance, but challenged him. He thinks that she should take up dancing again and take another chance at trying out for the dance school as she was supposed to do the day her mother was in the car accident. Things were going well. She found her friend was a single mom. She found that the hood wasn't that bad. She starts dating the brother and has issues with his ex girlfriend who feels that she doesn't belong there and she doesn't belong with the man since she is white and he is black. The next thing you find is that her friend is telling her that she doesn't fit in. That she should quit trying to understand things which are confusing to her since she never had to live this life as a black woman. Her boyfriend and her get in a fight and break up. He had gotten into med school, but he went back to running with the same group. He had helped her to get in shape with a dance routine and all. When they argue, he starts running with the gang member. When he goes on a run the day she is to try out, he realizes that his sister was the one who put bad thoughts in her head and ran her off. He showed up to show his support when she went to try out and showed her that a black man didn't have to have a role model. He could choose to become an honorable black man. He proved that there was nothing wrong with interracial dating as well.