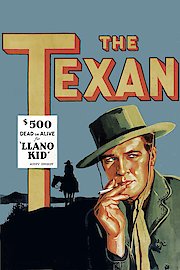 Watch The Texan
"A TERROR to men! A TORMENT to women! A THRILL for all!"
Passed
1930
1 hr 19 min
The Texan is a classic western film from 1930 starring the legendary Gary Cooper in one of his earliest leading roles. The movie is set in the town of Fairfield, Texas, where protagonist Gary Cooper plays the role of rodeo cowboy named Stony Brooke. Brooke is traveling from one rodeo event to another with his two cowboy friends, Tucson Smith (played by Granville Owen) and Lullaby Joslin (played by Harry Carey).
As they arrive in Fairfield, they are greeted by the beautiful and charming Fay Wray, who plays the role of Joan Cameron. Joan owns the largest ranch in the area and is highly respected by the local community. When Brooke and his friends learn that Joan's ranch is facing financial difficulties and is in danger of being foreclosed, they decide to help her out by coming up with a plan to save the ranch.
The trio of cowboys quickly get to work and start organizing a rodeo event to raise the funds necessary to pay off Joan's debts. However, they soon find themselves facing a number of obstacles, including a corrupt banker who is determined to foreclose on the ranch, and a group of local cattle rustlers who are trying to disrupt the rodeo and cause chaos in the town.
The Texan weaves together a gripping storyline filled with action, romance, and suspense, making it one of the most beloved western films of all time. The chemistry between Gary Cooper and Fay Wray is palpable, and the two actors deliver powerful performances that bring their characters to life and add depth to the story.
In addition to the strong lead performances, The Texan also boasts a talented supporting cast, including Emma Dunn, who plays the role of Aunt Henrietta, Joan's wise and loving aunt who serves as a maternal figure to the three cowboys.
The film features a number of exciting rodeo sequences that showcase the impressive skills of the cowboys, including bronc riding and steer wrestling. These scenes are expertly shot and choreographed, capturing the energy and excitement of the rodeo atmosphere.
As the story unfolds, the tension and stakes continue to mount, leading to a thrilling and satisfying conclusion that ties together all of the loose ends in a satisfying and emotionally resonant way. By the end of the movie, audiences will find themselves invested in the characters and the outcome of their journey.
Overall, The Texan is a classic western film that has stood the test of time and remains as entertaining and engaging today as it was when it was first released nearly a century ago. With its thrilling action sequences, strong performances, and memorable characters, it is a must-see for fans of the genre and anyone looking for a fun and exciting cinematic experience.