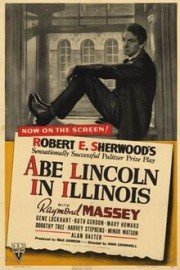 Watch Abe Lincoln in Illinois
"Now on the screen!"
Approved
1940
1 hr 50 min
Abe Lincoln in Illinois is a biographical drama film released in 1940, directed by John Cromwell and starring Raymond Massey, Gene Lockhart, and Ruth Gordon. The movie is based on Robert E. Sherwood's Pulitzer Prize-winning play of the same name, which was first performed in 1938. The film tells the story of Abraham Lincoln's life from his early years to his initial foray into politics and ultimately to his election as president of the United States.
The movie begins with Lincoln's youth in Illinois, where he lived with his parents and worked on the family farm. He shows an early interest in books and learning, which causes him to clash with his father, who favors physical work over education. Massey's portrayal of Lincoln is done with great care, and he brings to the character a mix of toughness, tenderness, and honesty that's both authentic and inspiring.
As Lincoln grows older, he becomes more and more restless with his life and surroundings, yearning for more than just a simple life in rural Illinois. His passion for justice and equality drives him to start getting involved in politics, first by running for office in the Illinois legislature, where he makes a name for himself by opposing slavery.
Lincoln's political career takes him to Washington, D.C., where he works as a congressman and becomes embroiled in the contentious debate over slavery that would eventually lead to the Civil War. Throughout this period, the film highlights Lincoln's character and the values and beliefs that shaped his actions. His moral courage and willingness to stand up for what is right, even in the face of great opposition, is depicted in thoughtful detail.
As the movie progresses, it becomes clear that Lincoln is destined for greatness. His speeches are powerful, and his leadership inspires those around him. Despite facing countless obstacles and setbacks, he never gives up or loses sight of his goals. The climactic scene of the movie is Lincoln's election as president, a moment that is both uplifting and bittersweet.
The film's cast is top-notch, with performances that are both nuanced and moving. Massey's portrayal of Lincoln is particularly noteworthy, displaying a level of charisma and authority that is essential to the character's appeal. Ruth Gordon's portrayal of Mary Todd Lincoln is also noteworthy, capturing the complexity and depth of her character with grace.
Overall, Abe Lincoln in Illinois is a moving and inspiring film that portrays one of America's greatest heroes with integrity and respect. The story of Lincoln's life is told with a great deal of care and attention to detail, and the performances from the cast bring these characters to life in an authentic and relatable way. The film may be a bit slower-paced than modern movies, but it's well worth the watch for anyone who is interested in history or looking for a movie that embodies the values of honesty, courage, and perseverance.
Abe Lincoln in Illinois is a 1940 drama with a runtime of 1 hour and 50 minutes. It has received mostly positive reviews from critics and viewers, who have given it an IMDb score of 7.3.