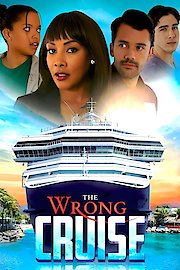 Watch The Wrong Cruise
TV-14
2018
2 hr 3 min
The movie The Wrong Cruise from 2018 is a thrilling drama that will take the viewers on a ride of suspense and intrigue. The movie stars Vivica A. Fox, Andres Londono, and William McNamara. The story revolves around a young girl named Hayley who is on a cruise with her mother and her stepfather, who is a business consultant. Hayley is not very happy with the situation and decides to explore the cruise ship on her own. However, she soon realizes that she is being watched and followed by some unknown person.
As the cruise progresses, strange incidents start occurring on the ship, and Hayley begins to suspect that something is not right. She tries to warn her mother, but her mother dismisses her concerns, thinking that Hayley is just being paranoid.
However, Hayley's fears are not groundless, and soon she finds herself in the middle of a dangerous game of cat and mouse, where her every move is being watched and monitored. With the help of a handsome stranger, Hayley sets out to uncover the truth behind the strange incidents on the ship and the person who is stalking her.
The movie is packed with suspense and thrill as the viewers watch Hayley trying to unravel the mystery of the unknown stalker. The movie also explores themes of betrayal, trust, and family dynamics, as Hayley tries to navigate the complex relationships between her mother, her stepfather, and herself.
The acting in the movie is top-notch, with Vivica A. Fox delivering a stellar performance as Hayley's mother, who is torn between her loyalty to her daughter and her trust in her husband. Andres Londono, who plays the handsome stranger, also impresses with his magnetic screen presence and intense performance.
The direction of the movie is slick and stylish, with the director skillfully building tension and suspense with every passing scene. The cinematography is also excellent, with the stunning visuals of the cruise ship adding to the eerie and ominous atmosphere of the movie.
Overall, The Wrong Cruise is a must-watch for fans of suspenseful thrillers. With its strong performances, gripping storyline, and excellent direction, the movie is sure to keep the viewers on the edge of their seats from start to finish. So, if you are looking for a thrilling ride packed with suspense and intrigue, The Wrong Cruise is the perfect choice for you.
The Wrong Cruise is a 2018 thriller with a runtime of 2 hours and 3 minutes. It has received mostly poor reviews from critics and viewers, who have given it an IMDb score of 4.7.