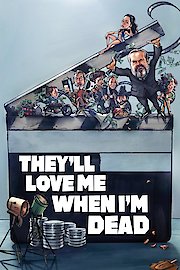 Watch They'll Love Me When I'm Dead
"The true story of the last film from Orson Welles"
TV-MA
2018
1 hr 38 min
77
They'll Love Me When I'm Dead is a 2018 documentary film directed by Morgan Neville that depicts the final years of legendary filmmaker Orson Welles. The film incorporates interviews with Welles' colleagues and confidants, archival footage, and footage shot during the making of his final film, The Other Side of the Wind, which was left unfinished for decades after his death. The film explores Welles' tumultuous creative process and his ultimate frustration with the Hollywood system. Welles is portrayed as a complex figure, simultaneously admired and shunned by his peers. The documentary also examines the personal and professional relationships that informed his work, particularly his romantic relationship with Oja Kodar, who co-wrote The Other Side of the Wind with him. One of the central themes of the documentary is the idea that Welles was ahead of his time, constantly pushing boundaries and experimenting with form. His visionary approach to filmmaking made him a beloved figure among cinephiles, but also made it difficult for him to find mainstream success. The film features interviews with a number of well-known filmmakers, including Steven Spielberg, Martin Scorsese, and Francis Ford Coppola, all of whom cite Welles as a major influence. Other interviewees include Welles' biographer and personal friend Simon Callow, actor and frequent collaborator Peter Bogdanovich, and Kodar herself. They'll Love Me When I'm Dead also explores the making of The Other Side of the Wind, a film that Welles worked on for over a decade but was unable to complete before his death. The film, which follows an aging director attempting to make a comeback, was intended to be a meta-commentary on Welles' own struggle to find funding for his films. The documentary portrays the making of The Other Side of the Wind as a kind of microcosm of Welles' entire career: ambitious, innovative, and endlessly frustrating. The film was shot over several years in the 1970s, with Welles occasionally interrupting filming to chase funding or work on other projects. They'll Love Me When I'm Dead also delves into the controversy that surrounded the film's release. For many years, the rights to The Other Side of the Wind were in legal limbo, with various parties claiming ownership. It wasn't until after Welles' death that the film was finally completed and released on Netflix in 2018, a fact that the documentary notes with great satisfaction. Overall, They'll Love Me When I'm Dead is a compelling and insightful portrait of a legendary filmmaker at the end of his life. It's a must-watch for any film buff, especially those interested in the history of Hollywood and the challenges faced by artists operating outside of the studio system.