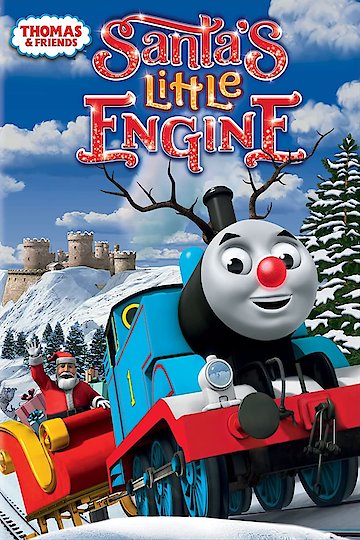 Watch Thomas & Friends: Santa's Little Engine
Thomas & Friends: Santa's Little Engine is a delightful animated movie released in 2013 that follows the beloved railway engine Thomas and his friends as they prepare for the Christmas season. The movie, which runs for 50 minutes, features the voices of Mark Moraghan, Ben Forster, David Bedella, and Jules de Jongh. The movie's plot revolves around the preparations for the Christmas celebrations on the island of Sodor, where Thomas and his fellow engines are getting ready to welcome Santa Claus. The engines are excited to see Santa but are also worried that they might not be able to finish all the work and decorations in time for his arrival.
As the preparations for Christmas continue, Thomas and his friends encounter various challenges that threaten to delay their progress. One such obstacle is the lack of space to build a Christmas tree that is big enough for Santa. However, the engines come up with a clever solution and eventually succeed in building a perfect Christmas tree that wows Santa.
Another problem the engines face is the shortage of snow, which is essential for creating a festive winter wonderland. But, as always, they find a way to solve the problem and create a magical snowy landscape with the help of their special friends.
Throughout the movie, the characters learn important lessons about teamwork, friendship, and the true spirit of Christmas. Thomas, in particular, teaches the importance of kindness by helping a stranded passenger return home to his family for the holidays.
The animation in Thomas & Friends: Santa's Little Engine is impressive, colorful, and detailed. The characters are well-designed and highly expressive, which adds to the movie's charm. The movie's soundtrack is also delightful, featuring some catchy tunes that are sure to get children singing along.
One of the things that make this movie unique is that it also provides an educational aspect for children. Children will learn the importance of hard work, perseverance, and teamwork. Furthermore, the movie gives valuable lessons about kindness and helping others in need.
The voice acting in Thomas & Friends: Santa's Little Engine is top-notch. Mark Moraghan does an excellent job voicing the narrator, while Ben Forster's voice brings Thomas to life. David Bedella does a fantastic job voicing Victor, and Jules de Jongh brings Emily's character to life through her voice acting.
Overall, Thomas & Friends: Santa's Little Engine is an enjoyable and heartwarming movie that can be enjoyed by both children and adults. It's sure to inspire children to think of others during the holiday season and remind them that the true spirit of Christmas is about kindness, friendship, and generosity.
In conclusion, Thomas & Friends: Santa's Little Engine is a fantastic movie that every child should watch during the Christmas season. It provides valuable lessons about teamwork, perseverance, and the importance of kindness while still maintaining the magic and wonder of the holiday season. So, snuggle up with your little ones and enjoy this delightful and amusing film.
Thomas & Friends: Santa's Little Engine is a 2013 animated movie with a runtime of 50 minutes. It has received moderate reviews from critics and viewers, who have given it an IMDb score of 5.8.