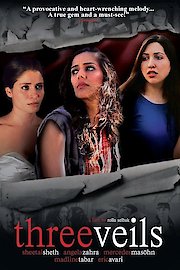 Watch Three Veils
2015
1 hr 57 min
Three Veils is a 2011 American drama film that tells the story of three young Muslim women living in the United States. The movie is directed by Rolla Selbak, who also wrote the screenplay. The movie revolves around the lives of three women: Leila, an attorney, Amira, a college student, and Nikki, a young woman struggling with her identity. All three of them are Muslim women who face similar struggles, including dealing with their families, religion, relationships, and personal growth.
Leila, played by Sheetal Sheth, is a successful attorney who is engaged to a man from a conservative Muslim family. She is trying her best to balance her career with her family life, but she finds it hard to conform to the traditional expectations set out for her. She is often caught between being true to herself and fulfilling the wishes of her family.
Amira, played by Angela Zahra, is a college student who is passionate about Islam but is finding it difficult to reconcile her faith with the modern world. She is dealing with struggles in her personal life, including falling in love with a non-Muslim man, and trying to navigate her way through college while also maintaining her religious values.
Nikki, played by Mercedes Mason, is a young woman who is trying to find her place in the world. She is half Middle Eastern and half Puerto Rican, and she feels like she doesn't belong anywhere. She is struggling with her identity and trying to figure out what her place is in her family, her culture, and her religion.
The movie delves into the personal struggles of each of these women as they navigate their lives and try to balance their desires with the expectations of their families and their culture. Each of them has their own motivations and challenges, but they all share a common bond in their faith and their desire to belong.
Throughout the movie, the women face a series of challenges, including the pressure to conform to traditional gender roles, the prejudice they face as Muslim women in the United States, and the difficulties they face in their personal lives. They struggle with their identities, their relationships, and the expectations placed on them by their families and their culture.
The movie explores themes of identity, religion, family, and personal growth. It portrays the challenges faced by Muslim women in the United States and the struggles they face to find their place in the world. It also highlights the importance of family, faith, and community in helping them overcome those challenges.
Overall, Three Veils is a thought-provoking movie that provides a unique insight into the lives of Muslim women in the United States. It presents an intimate portrayal of their struggles, their hopes, and their desires, and it challenges the stereotypes and prejudices that often surround them. The movie is a must-watch for anyone looking to gain a deeper understanding of the Muslim experience in the United States.