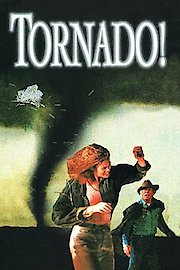 Watch Tornado!
"Hell has no fury like a twister."
PG
1996
1 hr 29 min
Tornado!, released in 1996, is an action-drama film that follows the story of a storm chaser named Jake Thorne, portrayed by Bruce Campbell. Jake is an eccentric and daring individual who has a passion for studying and tracking tornadoes. He teams up with meteorologist Patty, played by Shannon Sturges, to help her collect data on these powerful storms. Along the way, they encounter various obstacles and difficulties while chasing after the biggest tornado of their careers.
The movie starts off with an intense and heart-stopping scene that sets the tone for the rest of the film. Jake is driving towards a giant tornado when he spots a family's car stuck in the middle of the twister. Without hesitation, Jake races towards the car and manages to save the family from certain death. This thrilling opening scene hooks the audience in and gives them a taste of what's to come.
After the opening credits, we get to know our main characters Jake and Patty. Jake is a free-spirited and confident storm chaser who has seen almost everything there is to see when it comes to tornadoes. Patty, on the other hand, is a rookie meteorologist who is eager to learn as much as she can from Jake. Throughout the movie, their relationship grows as they learn to trust and rely on each other, both professionally and personally.
As they chase after the storm, they come across some interesting and diverse characters. From a religious fanatic who believes the storm is a punishment from God, to a group of daredevil storm chasers, the duo encounters a wide range of individuals who are affected by the tornado in different ways.
One of the most notable characters in the movie is played by Ernie Hudson, who portrays a FEMA official named Eugene. Hudson's character is the quintessential government employee, taking orders from his superiors and tasked with managing the disaster that the tornado brings with it. He provides the necessary government perspective to ground the more sensationalistic elements of the movie.
The story is fast-paced and absorbing, as the audience is taken on a thrilling ride filled with excitement, danger, and drama. The special effects for the tornadoes are impressive for their time, and the film does an excellent job of building tension as the storm approaches.
Despite focusing heavily on the action, Tornado! still manages to inject some emotional depth into the story. Jake is haunted by the memory of his wife who passed away in a tornado, and Patty has a strained relationship with her own father who is also a meteorologist. These personal storylines add an extra layer of complexity to the film, making it more than just a disaster movie.
Overall, Tornado! is a fun and engaging movie that delivers on its promise of providing thrilling entertainment. While it may not be the most memorable film of its kind, it stands the test of time as a solid action-drama with heart. Bruce Campbell and Shannon Sturges both give excellent performances, and the effects are impressive for a movie of its budget. If you're a fan of disaster movies, Tornado! is definitely worth a watch.
Tornado! is a 1996 action movie with a runtime of 1 hour and 29 minutes. It has received mostly poor reviews from critics and viewers, who have given it an IMDb score of 4.6.