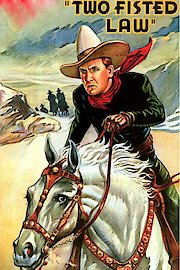 Watch Two-Fisted Law
"His Latest and Greatest Outdoor Romance"
Approved
1932
56 hr
Two-Fisted Law is an action-packed Western film, released in 1932, starring Tim McCoy, Alice Day, and Wheeler Oakman. Set in the American Wild West, the movie follows the story of Tim McCoy as Tim 'Arizona' Barrett, a tough cowboy who rides into the town of Rawhide to become the new sheriff. However, he soon discovers that the town is run by a powerful criminal gang, led by Spike Kester (Wheeler Oakman), who controls everything and everyone in the area. As Tim tries to bring law and order to the lawless land, he finds himself facing dangerous and deadly challenges from these vicious outlaws. The film opens with an exciting scene of a train being robbed by a group of bandits led by Spike Kester. The gang makes off with the loot, leaving behind the hapless passengers held at bay by their own fears. The passengers are then taken to the small town of Rawhide, where they meet the new sheriff, Tim Barrett. Tim is a skilled marksman and a master of various combat techniques, which he uses to maintain peace in the town. As he starts his new job, Tim discovers that Rawhide is not an ordinary town. It is controlled by Spike and his gang, who terrorize the inhabitants, extort money from local businesses, and rule with an iron fist. The corrupt town officials are either on their payroll or too scared to stand up to them. Undeterred, Tim decides to take on the outlaws, even if it means risking his own life. Together with a local rancher named Jim Bradley (William Walling), Tim sets out on a mission to bring justice to Rawhide. They face numerous challenges and obstacles along the way, including fierce gun battles, ambushes, and other treacherous situations. Tim is a true hero, not just because of his physical prowess, but also because of his loyalty, integrity, and sense of justice. The film is notable for its fast-paced action sequences, authentic portrayal of the Old West, and solid performances by the lead actors. Tim McCoy is excellent as the heroic sheriff, conveying a sense of confidence, courage, and steely determination. Alice Day is charming as Betty Rawlins, a young woman who catches his eye and provides some romantic interest. Wheeler Oakman is suitably menacing as the ruthless criminal leader of Rawhide, with a sneer that makes his intentions clear. Supporting actors, such as William Walling as Jim Bradley and Francis Ford as the town's judge, offer strong performances as well. One of the most interesting aspects of Two-Fisted Law is the way it portrays the struggle between law and order and criminality. Tim's character is depicted as someone who firmly believes in the rule of law, but who understands that sometimes a strong hand is necessary to bring peace to a town. He never loses his cool, even in the face of overwhelming odds, and his cool-headedness and resourcefulness make him a true hero. Overall, Two-Fisted Law is a thrilling and entertaining Western film that showcases the talents of its cast and crew. Its action-packed scenes, engaging storyline, and vivid portrayal of the Wild West make it a classic of the genre. Fans of Westerns and action films will likely find much to enjoy in this movie, and it remains a staple of the genre to this day.