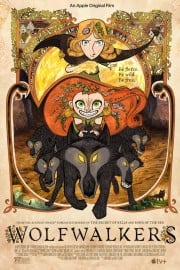 Watch Wolfwalkers
"Be fierce. Be wild. Be free."
PG
2020
1 hr 42 min
87
Wolfwalkers is a 2020 animated adventure film directed by Tomm Moore and Ross Stewart. The movie is set in Ireland during the 17th century and follows the story of a young girl named Robyn Goodfellowe (Honor Kneafsey), who helps her father Bill (Sean Bean) hunt wolves in a nearby forest. Robyn is a free-spirited and curious young girl who dreams of being a hunter like her father, but her dreams are stifled by the fact that she is a girl living in a patriarchal society that views women as inferior.
One day, while exploring the forest, Robyn meets Mebh (Eva Whittaker), a wild and spirited girl who is a member of an ancient tribe of Wolfwalkers. Wolfwalkers are humans who possess the ability to transform into wolves and share a deep bond with nature. Mebh's mother Moll (Maria Doyle Kennedy) has been lost in the forest for some time, and Mebh believes that the presence of Robyn may help her find her mother.
As Robyn and Mebh's friendship grows stronger, Robyn discovers the true beauty and wonder of the forest and its inhabitants. She also comes to realize that the persecution of the wolves is wrong and that they should be allowed to live in peace. However, this belief puts Robyn at odds with her father, who is determined to continue hunting the wolves and protecting his town.
The animation in Wolfwalkers is nothing short of stunning. The filmmakers use a stunning blend of 2D and 3D animation to create a world that feels both magical and grounded in reality. The forest is filled with lush greens and beautiful wildlife, and the transformation sequences in which Mebh and Moll become wolves are some of the most visually striking moments in the movie.
The voice acting in Wolfwalkers is also top-notch. Honor Kneafsey delivers a fantastic performance as Robyn, capturing the character's sense of wonder and bravery. Eva Whittaker is equally brilliant as Mebh, bringing a joyful energy to her character that is infectious. Sean Bean is also excellent as Bill, bringing a sense of gravitas to the role that elevates his character beyond a simple villain.
At its core, Wolfwalkers is a story about the power of friendship and nature's ability to inspire wonder and awe. It is a timely reminder that we must respect the natural world and the creatures that inhabit it. It is also a story about the importance of standing up for what is right, even when it means going against those we love.
In conclusion, if you're looking for a visually stunning, heartfelt, and genuinely moving movie, then you should definitely Watch Wolfwalkers Online. It is a beautiful film that will stay with you long after the credits roll
Wolfwalkers is a 2020 adventure movie with a runtime of 1 hour and 42 minutes. It has received mostly positive reviews from critics and viewers, who have given it an IMDb score of 8.0 and a MetaScore of 87.