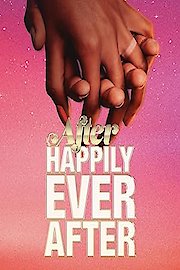 Watch After Happily Ever After
After Happily Ever After is an enthralling and emotionally charged drama series that takes viewers on a gripping journey into the lives of four fairytale princesses who must navigate the trials and tribulations of the modern world after their stories come to an end. Developed by BET+ and set to air in 2022, this captivating show explores the complexities of life beyond the fairytale endings, shedding light on the struggles, conflicts, and personal growth the princesses face in their pursuit of happiness.
Set in a contemporary realm where fantasy and reality coexist, After Happily Ever After introduces us to Cinderella, Snow White, Sleeping Beauty, and Rapunzel, each reimagined as multidimensional characters grappling with real-world challenges. The once-beloved heroines are now faced with unfulfilled desires, strained relationships, and unexpected hardships—a startling contrast to the lives they previously led.
Cinderella, now a successful entrepreneur and mother, finds herself struggling to balance her career aspirations with her family life, while Snow White, the former fairest of them all, fights to reclaim her confidence and identity in a society obsessed with youth and beauty. Sleeping Beauty, plagued by insomnia following her cursed slumber, battles with the haunting memories of her traumatic past, while Rapunzel, trapped in a metaphorical tower of her own making, grapples with discovering her true self in the face of societal expectations.
These iconic characters, brought to life by a talented ensemble cast, add depth and complexity to their original tales, expanding upon the archetypal narratives ingrained in popular culture. Their journeys are filled with relatable themes that resonate with a modern audience, touching upon topics such as identity, self-discovery, mental health, and the search for true happiness.
Throughout the series, viewers witness the princesses' personal growth as they confront their individual challenges head-on. In the face of adversity, they learn to embrace their inner strength, empowering themselves to overcome obstacles and rewrite their own destinies. The narrative seamlessly weaves together drama, romance, and elements of fantasy, providing viewers with a captivating blend of familiar fairytale storytelling and thought-provoking contemporary issues.
After Happily Ever After also expertly explores the bond between the four princesses, highlighting the importance of female friendship and solidarity. As they navigate their respective journeys, the women discover the strength that comes with supporting and lifting each other up during difficult times. Their shared experiences allow for deep connections to form, fostering a sisterhood that becomes a source of inspiration and motivation.
Visually stunning, the show presents a rich tapestry of lush landscapes, stunning costumes, and elaborate sets that transport viewers into a world that feels both magical and grounded. The production design seamlessly blends the fairytale aesthetic with modern sensibilities, creating a unique visual experience that keeps viewers engaged and immersed in the story.
After Happily Ever After challenges the notion of happily-ever-after endings, delivering a thought-provoking and captivating exploration of what lies beyond the mythical conclusion. With its complex characters, relatable storylines, and stunning visuals, this BET+ series promises to captivate audiences and offer a fresh perspective on the princesses that have become ingrained in our cultural consciousness, providing an enchanting and contemporary twist on beloved fairytale classics.
After Happily Ever After is a series that is currently running and has 1 seasons (8 episodes). The series first aired on October 19, 2022.