Magnificent Century
This historical drama series follows the reign of Ottoman Sultan Suleyman the Magnificent, the longest-reigning sultan in the empire's history. The drama revolves around the goings on in the sultan's court and his relationship with his wife. The series aired from 2011 to 2014 on Turkish TV.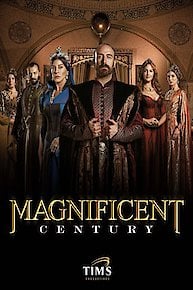 Watch Full Episodes of Magnificent Century

Magnificent Century Full Episode Guide
Çelebi Mehmet's secret gets out, thanks to Ibrahim. Hurrem's nerves are on edge as Suleyman attends to Mustafa. Sadika inches closer to Suleyman.

Suleyman extends Ibrahim an offer he can't refuse. Hatice reveals a different side of herself. Çelebi Mehmet has a secret, but Ibrahim is on to him.

Çelebi Mehmet Hodja is bedridden. Nigar Kalfa and Sümbül Ağa keep their eyes on Sadika. Suleyman finds a letter in Ibrahim's room.

Murat Sultan's son and wife manage to escape from Rhodes. Hurrem keeps her newborn at arm's length. AyÅŸe grows increasingly suspicious of Sadika.

Devastating news arrives from Rhodes. Nigar Kalfa is caught between Mahidevran and Hurrem. Conspiracy awaits Suleyman at Rhodes.

Victoria finds her way into the valide sultan's inner circle. Hurrem begins to fall out of favor with Suleyman, who sets out for Rhodes.

King Louis schemes to bring down Suleyman from within. Matrakçı Nasuh occupies himself with a mysterious guest.

Hurrem sends Gülnihal a package. The valide sultan is determined to put a stop to Hurrem, but something more urgent demands her attention.

The viziers speculate about Lala Pasha's departure. Hurrem gives Gülnihal an ultimatum, and Ibrahim's scheme against Hurrem appears to be panning out.

Hurrem is consumed by paranoia over her newborn son. Her temperament worsens when she hears details about the night she was in labor.

Suleyman prepares for Rhodes. Lala Pasha approaches Suleyman about the valide sultan's promise. Ibrahim uses Gülnihal to get back at Hurrem.

Those in the palace are shaken by the poisoning incident. Suleyman has a clue as to who the culprit is, but Hurrem plants new ideas in his head.

As everyone celebrates the sultan's homecoming, Mahidevran, devastated by Suleyman's aloofness, decides to put an end to Hurrem once and for all.

Hurrem's revelation puts her in dangerous straits, but luck is on her side. After attacking King Louis II's castle, Suleyman sets out for Belgrade.

Mahidevran faces dire consequences. The valide sultan's disaffection grows toward Hurrem, who continues to lock horns with Ibrahim.

While Suleyman prepares for the big campaign, a showdown puts Hurrem in critical condition, and the harem scrambles to sweep things under the rug.

Hurrem loses something important, and Mahidevran is exposed. Suleyman's campaign plans change course when an unsavory package arrives from Hungary.

Hurrem confronts Ibrahim, who shares a secret with Hatice. Mahidevran and Gulsah cook up a dangerous scheme.

Alexandra is emboldened by Suleyman's growing affections for her, but the valide sultan teaches her a lesson. Suleyman changes strategy on Rhodes.

Troubling news for the Ottomans arrives from Syria, and the Vatican decides to interfere. Suleyman scolds the valide sultan about the previous night.

Suleyman has a new vision for his empire and orders his first major execution. Alexandra appears in Mahidevran's cross hairs.

Suleyman inherits the throne from his father. The fiery Alexandra, brought on a slave ship from the Black Sea, stirs up a storm in the harem.