Red Band Trailer
Superstars will tell their whole life story when they do not feel pressured or when thy are in a relaxed setting. For this reason Diablo Cody has her closest friends who are in the media, spend quality talk time with her. The relaxed setting is a movie star traler , but this twist is they are not broadcasting on television, no, this time its on the internet. As Diablo asks questions, fans are eagerly waiting via web to hear how their favorite stars are willing to reply.
Every web show has a secret special guest appearance, and each guest will reveal the truth about their lives.
1 Season,

7

Episodes

October 5, 2011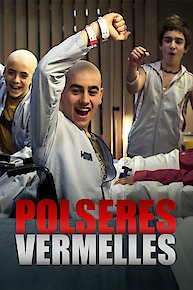 Red Band Trailer Full Episode Guide
"House of Lies" star Kristen Bell gives Diablo writing tips and gushes over hubby Dax Shepard's filmmaking acumen.

Episode

6

-

Kaling Upward

We're flailing for Kaling in the RBT this week as Mindy & Diablo dish on Bennifer, Charlize Theron's beauty, and rugged, sperm-shooting father figures.

Episode

5

-

Amanda Hug & Kiss

Un-showered and covered in Diablo's dogs' fur, Amanda Seyfried remains beautiful in the RBT while discussing Mean Girls and how being nude in Chloe was liberating.

"Community" and "Soup" star Joel McHale spills his guts in the RBT. It's Joel!!

This week in the RBT, Diablo learns how Bobby McFerrin and the cheetah informed the type of man Jack Black became.

Episode

2

-

Getting to Zo You

This week, the RBT becomes the RB-"Twee" when adorkable NEW GIRL star Zooey Deschanel stops by!

Episode

1

-

Kras Into You

John Krasinski discusses The Office, his untitled Chateau Marmont project, and reveals he may be OK with killing Maya Rudolph by dipping her in gold.
If You Like Red Band Trailer, Then Try...