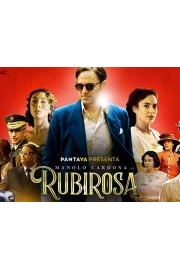 Watch Rubirosa
Rubirosa is a dramatic series on Pantaya that follows the story of a wealthy and successful man named Rubén Olmedo, played by Damián Alcazar, who has it all: a successful career as a lawyer, a beautiful wife, and a luxurious lifestyle. Despite his wealth, Rubén is not satisfied with his life and feels empty inside. He longs for something more meaningful to fill the void in his life.
When Rubén's wife dies unexpectedly, he is forced to confront the reality of his life and come to terms with the fact that he has been living a lie. He begins to question his choices and seeks answers to deeper questions about his purpose in life.
In the midst of his turmoil, Rubén meets a young woman named Aurora, played by Carolina Guerra, who is working to support her family and pay off their debts. Rubén is immediately drawn to Aurora's innocence and charm, and they form a deep connection that quickly becomes romantic.
As Rubén and Aurora's relationship blossoms, they both face challenges and obstacles that threaten to tear them apart. Rubén's wealthy and powerful family does not approve of his relationship with Aurora, and they do everything in their power to keep them apart. Additionally, Rubén's past mistakes and secrets come to light, and he must confront them head-on in order to move forward with Aurora.
The show delves deep into themes of family, wealth, and finding meaning in life. It explores the complexities of relationships and how they are influenced by societal expectations and individual desires. The characters are multi-dimensional, with flaws and strengths that make them relatable and compelling to watch.
The performances by the cast are outstanding, particularly Damián Alcazar as Rubén. He expertly portrays the character's inner turmoil and growth throughout the series, making the audience feel deeply invested in his journey. Carolina Guerra also shines as Aurora, bringing a sense of innocence and vulnerability to the character.
Rubirosa is a well-written and engaging drama that keeps the audience on the edge of their seats. It is a must-watch for fans of romantic dramas and anyone who enjoys exploring deep themes of human nature and relationships. While the show has some dark moments, it ultimately leaves viewers with a sense of hope and the belief that it is never too late to find happiness and purpose in life.