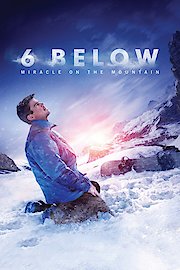 Watch 6 Below: Miracle on the Mountain
"Miracle on the Mountain"
PG-13
2017
1 hr 38 min
40
6 Below: Miracle on the Mountain, released in 2017, is a biographical drama thriller based on the true story of Eric LeMarque. The movie stars Josh Hartnett in the lead role, with Mira Sorvino and Sarah Dumont in supporting roles. The movie starts with Eric LeMarque, a former professional ice hockey player, living a life of thrill and adventure. Eric has a history of drug addiction, estranged relationships and unresolved issues with his father. In an attempt to escape his problems, Eric embarks on a solo snowboarding trip to the Sierra Nevada mountains. Eric's adventure takes a dangerous turn when he gets separated from his guide and gets lost in a white-out storm. With increasing altitude, lack of supplies and temperature below freezing, Eric is stuck in an uninhabited area of the mountain. The situation becomes even more grave when he falls into a deep and narrow crevasse, where he stays without water, food and shelter for more than a week. It's a race against time as Eric battles for his survival, facing the harsh realities of mother nature, his past and his own mind. As he struggles to find his way back to civilization, Eric has to leave behind his old self and find a new perspective on life. The movie portrays Eric's journey through flashbacks, as he reminisces about his childhood, family and drug addiction. It also highlights the role of his mother, who supported him through his struggles and encouraged him to seek help. Josh Hartnett delivers a powerful performance as Eric LeMarque, conveying his physical and emotional pain with authenticity. Mira Sorvino plays Susan Lemarque, Eric's mother, with subtlety and grace, providing a strong support to the narrative. Sarah Dumont, as Sarah Johnson, a snow ranger and Eric's personal savior, adds a fresh and empowering element to the otherwise male-dominated storyline. The film is directed by Scott Waugh and the screenplay is co-written by Madison Turner and Eric LeMarque himself. The cinematography by Michael Svitak captures the grandeur and danger of the mountain, creating a chilling atmosphere. The soundtrack by Nathan Furst elevates the emotions of the movie, with sounds of silence, hope and triumph. 6 Below: Miracle on the Mountain is a gripping and inspirational tale of human endurance and the power of the will to survive. It highlights the challenges faced by those who battle addiction and mental health issues, and the importance of support and redemption. Though the movie is slow-paced at times, it is a must-watch for those who enjoy character-driven drama and true stories of resilience.