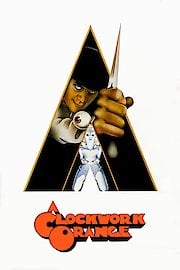 Watch A Clockwork Orange
"Being the adventures of a young man whose principal interests are rape, ultra-violence and Beethoven."
X
1971
2 hr 16 min
77
A Clockwork Orange is an award winning film starring Malcolm McDowell released in 1971 set in a not-so-distant future that explores the ability of humans to resist temptation and vice when under no pressure from adult responsibilities and the repercussions of an institution of authority going too far to rehabilitate convicted criminals.
The film opens up with Alex DeLarge (McDowell) and his "droogs" having a drink at the Korova Milk Bar where it seems the only drink available is drug-laced milk. As Alex narrates it quickly becomes clear that the threesome are not the story's heroes, and will shortly be up to no good.
After they leave the bar, the three encounter an old Irish bum and beat him within inches of his life seemingly just because they can, storm in on a rival gang of schoolboys in the process of raping a young woman and proceed to have a violent clash, steal a car and purposely drive on the wrong side of the road to run other drivers into ditches, and ultimately fool their way into a young couple's house, don masks, beat the elderly husband senseless, and gang rape his young wife after cutting her clothes off with a large pair of scissors.
The figures in Alex's life that should represent authority and should correct his criminal and seemingly sociopaths behaviors seem ignorant of them as he is never shown being caught in the act until he ultimately is betrayed by his abused and disgruntled droogs and left to be caught by the police after another break-in. His parents allow him to lay out of school constantly and seem to leave the responsibility of disciplining him to his parole officer, who only ever seems to know of his truancy, although he suspects other things may be going on once he finds a pair of dentures in Alex's bedside water glass. This allows the film to explore multiple instances where the young Alex can behave as he chooses to without fear of consequence so long as he is not caught in the act of anything worse than excessive truancy.
The film begins to delve into a statement about cruel and unusual forms of rehabilitation and the adverse effects such programs could have on humanity once Alex is taken to prison after his last escapade. While in prison he approaches a Chaplain that he has befriended by feigning a newly found faith in God and explains that he wants to undergo the Ludovico Technique. Alex explains that he wants to reform badly, but is made clear through narration and Alex's actions that he only cares about the program because it will get him released from prison.
The technique renders Alex incapable of even thinking of activities considered by society to be deviant without becoming violently nauseous. He is approached by his old droogs and rivals when he returns home who proceed to assault him, but because of the treatment, Alex is unable to defend himself at all. It is widely accepted that the creator of the original story intended for this to be a statement against thought control and re-education by such means as the Ludovico Technique, where the subject's very identity is reformed through force, under the influence of chemicals, and ultimately against their will.
A Clockwork Orange is a 1971 science fiction movie with a runtime of 2 hours and 16 minutes. It has received mostly positive reviews from critics and viewers, who have given it an IMDb score of 8.3 and a MetaScore of 77.