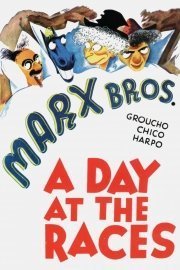 Watch A Day at the Races
"America's Joy-Friends are back again in the grandest entertainment gallop of 1937! More howls, more girls, more song hits than "A Night At The Opera"! Oh boy!"
Passed
1937
1 hr 49 min
Doctor Hugo Hackenbush, Tony, and Stuffy try to save Judy's farm by winning a big race with her horse. There are a few problems. Hackenbush runs a high priced clinic for the wealthy who don't know he has his degree in Veterinary Medicine.