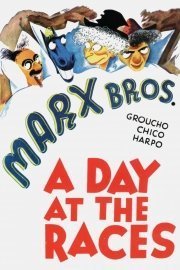 Watch A Day at the Races
"America's Joy-Friends are back again in the grandest entertainment gallop of 1937! More howls, more girls, more song hits than "A Night At The Opera"! Oh boy!"
Passed
1937
1 hr 49 min
A Day at the Races is a classic comedic film from 1937 that stars the Marx Brothers - Groucho, Chico, and Harpo. The movie follows the zany misadventures of the trio as they try to protect a sanitarium for nervous rich women from being taken over by a conniving businessman. The film kicks off with Groucho's character, Dr. Hugo Z. Hackenbush, posing as a physician to get a job at a horse racing track owned by the wealthy Mrs. Upjohn. Chico plays Tony, a jockey who believes he can't win unless he has a lucky feather, and Harpo plays a jockey who communicates through a whistle.
As they adjust to their new surroundings, the brothers learn that Mrs. Upjohn is having financial troubles and may have to sell her sanitarium. They hatch a plan to win a big horse race and use the winnings to save the sanitarium. Their efforts are threatened by Whitmore, a businessman who wants to buy the property and turn it into a casino. He enlists the help of Morgan, the track veterinarian, to sabotage the Marx Brothers' efforts.
Groucho, Chico, and Harpo get up to all sorts of hilarious antics as they try to save the day. They switch horses, engage in a game of charades to fool Morgan, and even stage a big musical number to distract the crowd during the race. Along the way, they encounter a host of eccentric characters, including a hypochondriac named Emily, a bumbling detective, and a hilariously over-the-top opera singer.
Throughout the film, the Marx Brothers' trademark blend of slapstick humor and witty one-liners are on full display. Groucho dominates with his quick-witted quips and sardonic delivery, while Chico and Harpo provide plenty of physical comedy and sight gags. The trio's chemistry is evident in every scene, and their antics are sure to leave audiences in stitches.
Aside from the Marx Brothers' antics, A Day at the Races features some impressive horse racing scenes. The film was made during the golden age of Hollywood, when movie studios spared no expense on big-budget productions. The race scenes are a sight to behold, with swooping camera angles and beautiful shots of horses thundering down the track.
Overall, A Day at the Races is a must-see for fans of classic comedy. It's a rollicking romp that showcases the Marx Brothers' unique brand of humor and features some truly impressive horse racing scenes. The film is a testament to the enduring popularity of the Marx Brothers, who continue to be beloved by audiences of all ages.
A Day at the Races is a 1937 comedy with a runtime of 1 hour and 49 minutes. It has received mostly positive reviews from critics and viewers, who have given it an IMDb score of 7.5.