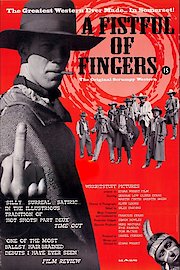 Watch A Fistful of Fingers
"The greatest western ever made...in Somerset."
1995
1 hr 18 min
A Fistful of Fingers is a western comedy film. A bumbling wannabe lawmen struggles to protect his town against outlaws. The citizens do not believe in their lawman, but soon everything changes. A dangerous gang rides into town, and the lawman's horse is brutally murdered. The lawman decides that enough is enough, and he rides after the dangerous and deadly gang. The townspeople begin to believe in their law enforcement, but there are still plenty of clumsy moments along the way.