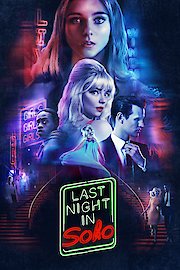 Watch Last Night in Soho
"When the past lets you in, the truth will come out."
Last Night in Soho is a 2021 psychological thriller directed by Edgar Wright and starring Thomasin McKenzie, Anya Taylor-Joy, and Matt Smith. The film follows the story of a young woman named Eloise who dreams of becoming a fashion designer and travels from her small town to London to pursue her dreams. She rents a room in a bed and breakfast in the neighborhood of Soho, where she becomes fascinated by the 1960s fashion and nightlife scene.
As Eloise begins to experience strange and vivid dreams of an aspiring singer named Sandy, played by Anya Taylor-Joy, she becomes increasingly entangled in the past and present of Soho. Eloise soon discovers that her dreams are more than mere visions of the past but are instead glimpses of a tragic reality. The movie takes place across two different timelines, the present day and 1960s London, and as the lines between the two begin to blur, Eloise finds herself on a dark and dangerous journey.
Throughout the movie, Eloise is fascinated by the seemingly glamorous world of Soho's nightclubs, fashion, and music. However, as she unravels the mystery of what happened to Sandy, she begins to realize that beneath the surface lies a world full of secrets, darkness, and danger. Eloise must navigate her way through this twisted reality while trying to uncover the truth about what happened to Sandy.
Thomasin McKenzie delivers an outstanding performance as Eloise, displaying a wide range of emotions throughout the film and compelling viewers to take this dark journey alongside her. Her character seeks to find her place in the world of fashion and design, but as she goes down the rabbit hole of Soho's secrets, she is forced to confront the darker side of that world.
Anya Taylor-Joy shines as the young singer Sandy, capturing the essence of the 1960s scene with her mesmerizing voice and style, and giving audiences a glimpse of a different time in the world of music and culture. Matt Smith delivers a strong performance as well, playing a mentor to Eloise who provides guidance as she becomes increasingly lost in her dreams.
The cinematography of Last Night in Soho is stunning, creating a vivid and immersive experience for the audience. The use of color and lighting throughout the movie is breathtaking, and the set design captures the essence of 1960s London perfectly. The directing style of Edgar Wright adds a unique twist to the film, utilizing intricate camera work and editing to create moments of horror and suspense.
Overall, Last Night in Soho is a haunting and thrilling ride that keeps viewers on the edge of their seats. The film blends genres seamlessly, creating a story that is equal parts psychological thriller, horror, and drama. The performances of the cast, the breathtaking cinematography, and the unique directing style of Edgar Wright make Last Night in Soho a must-see film for lovers of the genre.
Last Night in Soho is a 2020 horror movie. It has received mostly positive reviews from critics and viewers, who have given it an IMDb score of 7.0 and a MetaScore of 65.